Design 
As with the dynamics, the outside isn't very thrilling. It's not ugly, but it's also not especially good looking – it's safe.
It's distinctly an Astra too. In isolation, it convinces you it's not that dissimilar to the old model in the way it looks. But spot the two together and the new Astra does look markedly different. Not better or worse, just different.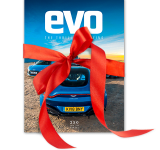 Subscribe to evo magazine
If you're passionate about the world's greatest performance cars, experience the thrill of driving with evo magazine. Try your first 5 issues for £5.