New Toyota C-HR 1.2 turbo review - Keen-handling crossover driven
The engines won't even begin to thrill you but the design is genuinely daring. Handling ride are unexpectedly keen and capable, too.
It's a Coupé High-Rider, as the initials suggest, and remarkably similar to the C-HR concept car that appeared at the 2014 Paris Show and looked far too extreme for a production Toyota. The intended market was Europe, although Toyota has now decided to sell the C-HR in Japan and the US as well, and chief engineer Hiroyuki Koba has aimed to make it appeal to keen European drivers who apparently steer through a hazard at unabated speed rather than stopping and thinking about it.
The idea has shades of an upsized Nissan Juke in the blatant statement of its style, and is intended to appeal to a young, fashion-obsessed audience which wants its cars to make a statement about them and which is terrified of missing out on a new trend (to paraphrase the marketing proposition). So it's designed to look like a three-door fastback coupé sat on a tough-looking base with exaggarated wheelarches and obvious airflow-management features. The skeletal rear spoiler and protruding tail-lights are especially striking, and the interior is equally dramatic.
The C-HR is built, for European markets at least, in Turkey.
Technical highlights
Under the skin is the Toyota New Global Architecture (TNGA) platform that already underpins the current Prius. Here, the wheelbase is slightly shorter and the tracks slightly wider, and the multi-link rear suspension's lower arms have balljoints instead of bushes to give a sharper, more precise steer.
Koba's team sought 'response, linearity and consistency' in the C-HR's dynamics, attributes which sound promising to evo ears. Low friction in the steering and the front suspension strut bearings, along with that rear lower balljoint, helps here.
> Also read: Full review of the SEAT Ateca
The top model's powertrain is the hybrid system from the Prius, its hybrid battery mouted under the rear seat so it doesn't eat into luggage space. The other choice is a 1.2-litre, four-cylinder unit, turbocharged and able to run on the Atkinson cycle – delayed closing of the inlet valves – when not working hard. This reduces pumping losses and saves fuel. There are no diesel engines, because the hybrid system costs about the same as a diesel would cost and achives similar fuel efficiency with a cleaner exhaust.
Partnership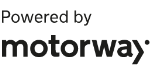 Need to sell your car?
Find your best offer from over 5,000+ dealers. It's that easy.
One piece of tech cleverness, or another nail in the coffin for niceties of driving skill depending on your viewpoint, is the way the 1.2-litre engine, when matched to the six-speed manual gearbox option, not only automatically blips up its revs for a smooth downshift but also automatically gives the right throttle opening for a smooth, rev-matched upshift. Toyota calls it Intelligent Manual Transmission, or IMT.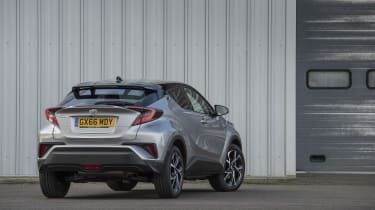 Engine, transmission and 0-60 time
We've just mentioned the IMT system, but there's also a continuously-variable auto option for the 1.2 which can be matched with four-wheel drive, the only C-HR so equipped. All the others are front-wheel driven. The 4WD is able to divert up to 50 per cent of torque to the rear wheels via an electromagnetic coupling.
The hybrid, too, uses a CVT, and lacks the 1.2 CVT's paddle shifters which allow manual control of 'gears' in six ratio steps. As well as the 1.8-litre, 97bhp engine there are two electric motors, one used mainly as a generator for the hybrid battery but also as the starter motor, the other providing electric power for brief low-speed running, acceleration boost and reversing. Total system power is 120bhp, enough for a fairly leisurely 0-62mph time of 11.0sec and a top speed of 105mph.
If you went for a simpler 1.2, you'd have similar accelerative ability with the manual fractionally the liveliest at 10.9sec and 118mph.
What's it like to drive?
Those numbers don't promise a rousing drive, so might a torquey delivery redress the balance? With electric urge from low revs in the hybrid, and the promise of strong low-end torque in the 1.2 (136lb ft from 1500rpm) with its low-inertia turbo and high-for-a-turbo-engine compression ratio, you might hope so.
Hybrid first. The revs shoot up in usual CVT fashion if you press the accelerator hard, but not to the extent that the engine feels disconnected from the car. That said, you're aware of a clinical propulsion unit up front rather than an electromechanical heart. The satisfaction comes from 86g/km official CO2, and little else.
The 1.2 is better, and in manual mode the CVT can be quite fun while proving painless enough in auto mode. The stick-shift, three-pedal 1.2 is massively more enjoyable, however, even if its urge is never more than brisk and its low-end energy is rather less evident than we'd hoped. You can switch off the IMT rev-matching trick but, if you submit to its offer, you'll make incredibly smooth shifts both up and down without any recourse to your own co-ordinative abilities. Rushing an upshift will flummox it, though. So will double-declutches or attempted clutchless gearshifts (we had to try, for research purposes). Which shows that it relies on a clutch switch to trigger the process.
> Toyota GT86 review - the best budget sports car on sale?
As for the 'response, linearity and consistency', they're actually very good indeed, as is the ride quality most of the time. Roll angles are low, the steering is very precise, front-end grip is terrific and there's a smidge of throttle-adjustability in the attititude. Job done there, then; few crossover-type cars feel as agile, connected and flickable as this one, with enough sensations coming from elsewhere to make up for the EPAS's innate lack of true feel.
You can sit high as befits the high-rider idea, or you can set the seat and steering wheel lower and still see out properly. Rear passengers are less well off; they have plenty of leg- and headroom, but the high waistline, small rear side windows and thick rear pillars make the rear cabin miserably claustrophobic. The rear three-quarter view out is pretty hopeless for the driver, too.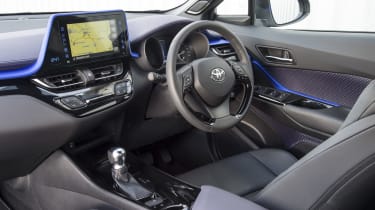 The cabin design is dominated by a strip which runs from the door trims, through the (round and analogue) dial cluster and across the dashboard, climbing up and over the large infotainment display en route. The signature colour for this strip, with its rubbery coating, is bright blue, with a purple-tinged backdrop for parts of the other upholstery. Or you can have a calmer brown and silver look.
Diamond-shaped motifs abound, the facia top appears to be floating, and the material and construction quality makes a good stab at premiumness. The instrument display includes a chassis schematic showing real-time g-forces and, in the 4WD model, where the torque is going. And the optional JBL stereo system is very good indeed.
Rivals
With prices starting at £20,995 for the manual Icon model and topping out at £27,995 for a Dynamic in either Hybrid or 1.2 CVT 4WD guise, and Excel-trim C-HRs in between, this is a head-on rival for the Peugeot 3008 tested a few weeks ago. It's cheaper than a BMW X1 or an Audi Q3, and more striking-looking than either these Germans or the biggest seller in the class, the Nissan Qashqai. A faster version would be good, and those riding in the back won't like it, but the Toyota C-HR is nothing if not a bravely bold attempt to make crossovers more interesting. And chassis-wise, it feels the handiest of all of them.