SEAT Leon Cupra R buying guide
Combining a sub-7sec 0-62mph dash with everyday practicality and VW Group build quality, the original SEAT Leon Cupra R is a true all-rounder. Here's what you need to know.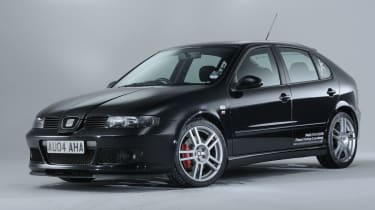 Talk about careless. Volkswagen created an iconic and lucrative market segment with the Golf GTI, but with the mk4 version it mislaid the blueprints and contaminated the brand. GTI mk4 was a stodgy, uninspiring hatch unworthy of the badge. Luckily another member of the extended VW family remembered the key parts of the magic formula and in 2002 crafted its own take on the GTI – the SEAT Leon Cupra R.
Actually, the Cupra R was more like a GTI Plus, with 207bhp from its turbocharged 1.8-litre 20-valve four-pot (lifted from the Audi S3), a six-speed gearbox and Brembo brakes. The Leon Cupra R – or LCR, to use the vernacular – was a looker, too. While the Golf GTI pursued subtlety to the point of invisibility, the LCR was brazenly aggressive. Squat, low and honeycomb-grilled, with 18in alloys and painted-on Pirellis, it had the lot, including a 17-grand price tag that made the similarly priced 148bhp GTI look like a bad joke and the £24K Audi S3 a daylight robber.
A funereal-hued interior might have invoked jibes from the press, but LCR owners preferred to revel in the Leon's generous cabin and boot space, and enjoy an equipment quota that ran to air-conditioning, electric windows all round and a premium sound system linked to a six-CD autochanger. Build quality didn't seem too far adrift from pukka Volkswagen offerings either, adding to the overall feelgood factor that owners enjoyed.
Browse through hundreds of used performance cars for under £10k
Magazine road testers were a tad more objective in their appraisals of the LCR. All that power and torque (199lb ft of it, stretching from 2200 to 5500rpm) was commendable, yet its smooth delivery robbed the LCR of the fizz and drama that might have helped it climb higher in hot hatch group tests. Nevertheless, as an all-round go-fast-and-have-fun everyday companion, SEAT had produced a belter.
It soon got even better. In mid-2003 the LCR's power rose to 222bhp (225 PS) and its torque bloomed to 206lb ft, courtesy of some electronic chippery. The increased outputs (also found in the Audi TT 225 of the time) were accompanied by red instead of black 'R' badges and a fatter-rimmed steering wheel with a rally-style red band at top centre. Most you'll see are to this enhanced spec.
Britain was the LCR's biggest market and, by the time production stopped in 2006, we'd bought 4083 of them. You only have to cruise the classifieds and compare prices of the SEAT against those of Golf GTIs of similar vintage to realise that if you make the right car, people will always be prepared to pay a premium for it.
'I bought one'
PAUL SWAiNSON - 'Before I got my LCR I owned a 178bhp Leon Cupra. It was a rash, spur-of-the-moment purchase and the car had a high mileage and a fair few faults. As a consequence of that, I signed up to SEATcupra.net, which has fixes for just about any Leon-related fault you can imagine and can literally save you thousands with its explanations of how to do jobs yourself.
'It was through the site that I found my Cupra R. This time I researched the purchase properly and spent some time finding the right car, in this instance a "225" model. Although it was faultless, there has been work to do on it since I first got in it July 2009.
'It's all been little stuff. Refurbishing the faded Brembo calipers, for instance, which I did myself, and replacing the front splitter, which is prone to knocks. As for servicing, I tend to use VAG specialists.
'Running my car on Shell V-Power, I can get mpg figures in the high 30s on a run. The big expense is tyres – the fronts can wear out in less than 10,000 miles!'