SUVs dominate Skoda future product line-up, all new Yeti due in 2018
Two potential crossovers as well as big 7 seater SUV planned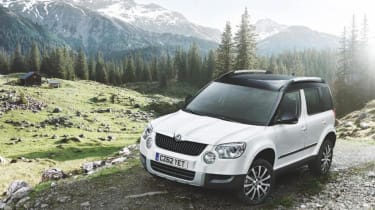 The all new Skoda Yeti is set for launch in 2018, with the refreshed small form factor SUV boasting more mainstream looks along the lines of the just unveiled Superb.
The original Yeti was fun to drive and boasted unusual design, eventually earning itself a place on our Fast Fleet. For the 2018 model, Skoda has opted for a more restrained and conventional look, with a clean front end that boasts split headlights and a clamshell bonnet.
> Read our Skoda Yeti review here
The reason for the more mainstream Yeti is to bring it in line with the rest of Skoda's SUV range. Set for launch in 2016 is a new 7-seat SUV not unlike the Land Rover Discovery Sport or even the BMW X5, of which it boasts a similarly designed rear end.
The new large-scale SUV will be the biggest car in Skoda's off-road product line up at 4.7 metres long. A mix of two wheel drive and four wheel drive variants will be offered, but the design and ethos of the car will be very much geared up for road driving.
Also planned are a pair of potential crossovers. One will act like a five seat version of the top of the line SUV, albeit with that typical crossover low roofline. Practicality and space will be key with both models. Skoda may also unveil a new small form factor crossover to sit below the updated Yeti.
Skoda's entire product line up looks set to be dominated by SUVs for the time being. The new Octavia, which features a completely redesigned front and rear end, isn't set to be unveiled in 2017.