Skoda Fabia R5 Combi concept
Skoda celebrates rally success with Combi concept at Wörthersee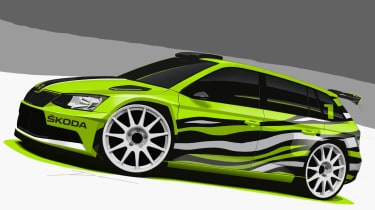 Skoda will bring a new concept version of its Fabia R5 rally car to the Wörthersee tuning festival later this month. Called the Fabia R5 Combi, it has been created to celebrate the R5's victory on its debut at the Šumava Klatovy Rally of the Czech Republic.
Few details have been released, but we do know that the car – which reinterprets the R5 as an estate – is powered by a turbocharged 1.6-litre petrol engine, and sends power to all four wheels through a five-speed sequential gearbox.
Since these specs match the R5 rally car, it's probably safe to assume the Combi will also produce close to 300bhp and weigh around 1230kg.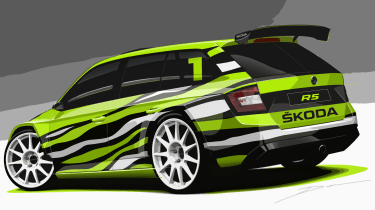 The new concept sits on 18-inch wheels and is suspended on McPherson struts. Wrapped in a striking green, white and black livery, the Combi also flaunts flared arches and a large rear wing. It wears the number one to signify its recent victory.
Joining the R5 Combi concept on Skoda's stand will be the original R5 Fabia. The rally car only received FIA homologation this spring, but has already demonstrated its capabilities in the Czech Rally Championship with Asia-Pacific Champion and Czech national, Jan Kopecky, at the helm.
Skoda will bring a total of five performance models to its sixth Wörthersee event. This will be the 34th Wörthersee tuning festival, which is one of Austria's most popular motoring events.
With fans and manufacturers of the Volkswagen Group in attendance, the festival mixes production cars with concepts and heavily modified aftermarket creations. The 2015 event will take place between the 13 and 16 May.