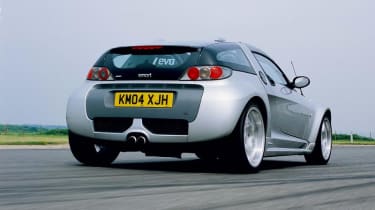 The Fast Fleet has rarely entertained a car as divisive as the Smart Roadster Brabus. Like Marmite, some people loved it, others found it made them go 'Eeurrrghhh'. And the haters would have good cause to pull faces because in cold terms this is an overpriced, underperforming trinket with a terrible ride and an irritating gearbox. But don't assume that the Roadster is only as good as the sum of its parts. If you're prepared to open your heart to its charm, it's a lot better than that.
Even in rational terms there's a lot to love. Despite its microscopic size, the Smart has a remarkable amount of room for the driver and, since we went for the hatchbacked Roadster-Coupe version, it's amazing how much luggage you can cram in the back and the well between the front wheels. The only practical point that lets it down is the pathetic storage space in the cabin, although I sidestepped some of this by having the Roadster fitted with Smart's excellent iPod dock. Well worth £155, if only to banish the slew of CDs that clattered across the car during cornering.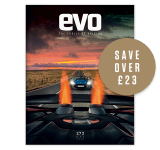 Subscribe to evo magazine
Subscribe today to have every issue of evo delivered straight to you. You'll SAVE 39% on the shop price, and get evo for its original cover price for a whole year!
Since we're talking tedious practicalities, you should know that despite the pretence of having a variable-interval service indicator, the Smart's dash display is actually set to remind you that this thing needs booking in every 7000 miles, no matter how you drive it. Stupid really; they could have gummed a Post-It note to the dash and saved themselves a load of bother. Those intervals sound hilariously short for a modern car, especially one that demands fully synth oil, but considering the frenetic hamster's heart of an engine, it's a wise move. Even so, when the 7000 oil-change service cost a stiff £167 at Smart Brentford, you realise little car doesn't mean little costs. Still, at least they were reasonably efficient. When the car later visited Smart Colindale to have a cracked headlamp replaced and a squealing rear wheel investigated, they had it for a whole day and then sheepishly called to say they'd done precisely none of the work because they were 'quite busy'. By way of compensation, they booked the car in again, came to collect it and then delivered it back lovingly cleaned... and still with none of the work done. No headlamp parts in stock, and apparently no ability to hear the squeak. Thanks.
Some slack service shouldn't dim the fact that every journey in the Smart was an event. Yes, the ride is crashingly firm, not helped by those handsome but excessively large Brabus wheels, and the gearbox was too dithering for really hard driving, but there were compensations. That feisty 101bhp three-cylinder engine for starters, which really loosened up as time went on and always growled amusingly. In fact, that was one of the Smart's best tricks - the noise, allied to the ground-skimming driving position, always made it feel faster than it was. When David Yu tested a smorgasbord of Roadsters last year, he found the Brabus was the only one that would oversteer, but on the road you'd never see more than a slight bum-wiggle out of roundabouts, even with the ESP off. Probably for the best, because the steering's laboriously low gearing wouldn't be on your side in big sideways moments, even though the actual feedback through the shimmying wheel wasn't bad. But you don't drive the Smart like a drift monster. You nip and tuck in urban traffic, punching through gaps to a fluttering, whirring soundtrack, flipping up and down the six-speed 'box, enjoying the unbelievable amounts of attention this car attracts, even amongst the studied indifference of central London. Well who wouldn't love something that looks like a campy space buggy from a '60s movie?
But the Roadster's charms went deeper than its looks. In pure driving terms it falls down in many of the areas where this magazine demands excellence, and yet somehow it didn't matter. It had charm, it had charisma, it was the kind of car people like us should like on principle. A rear- engined, rear-drive sports car that weighs less than a Ford Ka? Isn't that what we always wanted? And in an age when car lovers are constantly accused of every evil short of piracy and treason, isn't this the car we really ought to be lusting after, just to show we're doing our bit?
Evidently not. Roadster sales were never brilliant and at the end of this year DaimlerChrysler will kill it. Bizarrely, as soon as the death notice went up, demand here rocketed and Smart UK is begging the factory for more cars. Yet this isn't enough to save it. There's a rumour doing the rounds that Brabus may build a limited run of its Roadster V6 show car - and having driven it last year, I think that would be A Good Thing - but the regular car's days are numbered.
After a year with our Roadster, I think this is very sad. With a bit more development it could have been a truly great car as well as a deeply loveable one.
Running Costs
| | |
| --- | --- |
| Date acquired | May 2004 |
| Total mileage | 12,263 |
| Duration of test | 12 months |
| Average MPG | 41.5mpg |
| Servicing costs | £167 |
| Extra costs | £155 |
| Price new | £16,995 |
| Trade in value | £12,995 |
| Depreciation | £4000 |