Mild-hybrid Suzuki Swift Sport goes on sale
More money, less performance for latest Swift Sport may be a hard sell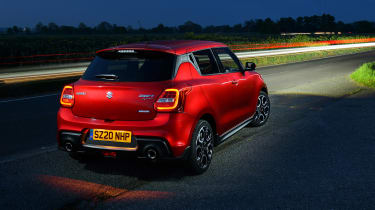 If there's one thing the latest generation of Suzuki Swift Sport has struggled with it's a price point that, in part thanks to unfavourable exchange rates, pushed the 138bhp hatch up to uncomfortable territory, mixing it with the more powerful Ford Fiesta ST.
That's not going to change with the latest car either, since it's become even more expensive – and some of the other changes might raise an eyebrow too. Not only does the new model now start at £21,570, up more than £3500 from the introductory price of the outgoing car, but it's less powerful too.
> 2018 Suzuki Swift Sport review – can the bantamweight hot hatch rival the new Fiesta ST?
Some of the change can be at least partly accounted for by the addition of mild-hybrid technology to the existing 1.4-litre turbocharged 'BoosterJet' four-cylinder. The technology is effectively an enhancement of that previously offered on 1-litre, three-cylinder versions of the Swift.
Now using a 48V electrical system, the hybrid set-up is otherwise much the same as before, using a belt-driven integrated starter-generator for the purposes of starting the engine, recuperating energy under deceleration, and reducing load on the engine to improve efficiency.
As a result Suzuki claims the new powertrain develops 173lb ft from 2000rpm, 3lb ft more than before but developed 500rpm lower. Unfortunately, with 127bhp it's also 11bhp down on the old car, to the detriment of performance: 0-62mph now takes 9.1sec, a full second slower. The 130mph top speed is unchanged.
For reference, we've previously recorded just 7.6sec to 60mph, as thanks to light weight the Sport always punched above its modest output. Thankfully, the mild-hybrid tech – which also packs a small lithium-ion battery – adds only 15kg to the weight of the car. The technology also enables the generator to idle the engine when the clutch is disengaged and the engine speed below 1000rpm, at speeds below 50mph.
Effectively, it's a system designed to maximise engine-off time, which might not be a priority for the average hot hatchback buyer but will increasingly be the only way smaller cars can meet tough emissions legislation. Suzuki claims a 17 per cent drop in CO2 and 17 per cent increase in economy. At 50.1mpg it doesn't sound staggering, but that's on the WLTP cycle – and our experience with the regular BoosterJet suggests real-world economy is fairly impressive.
The car retains its six-speed manual transmission, as do all models using the new hybrid-assisted 1.4, which include the Vitara and S-Cross crossovers, which start at £21,749 and £20,749 respectively. With lightly used pre-hybrid Swift Sports now down as low as £12,000, they make a lot more sense than they did when new.