With just under sixteen-hundred cubic centimetres of engine capacity, four cylinders and modest horsepower, the original Toyota MR2 looked, at best, like a tepid attempt at a sports car. However, the MR2 was actually a bold response from Toyota to the petrol shortage of the 1970s and proof that performance cars needn't be inefficient. Today, the 'Midship Runabout Two-seater' looks more ahead of its time than ever.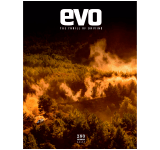 Subscribe to evo magazine
Subscribe today to have every issue of evo delivered straight to you. You'll SAVE 39% on the shop price, and get evo for its original cover price for a whole year!
Launched in 1984, the featherweight sports car subscribed to the simple and lightweight,  back-to-basics principles we associate with Lotus today. That said, it was shot through with modernity. The engine revved past 7000rpm thanks to contemporary, cutting-edge technology normally reserved for period exotica, and the advanced construction techniques yielded impressive torsional rigidity, not to mention a sub-ton kerb weight.
Sold in the UK from 1985 onwards at prices starting from £9295.16, the MR2 wasn't cheap, but the low running costs went some way to offset the initial outlay, while the junior supercar silhouette and rare mid-engined layout helped attract buyers, too.
History
While Pontiac and other American companies were fiddling around with smog-pumps and wondering what on earth to do about the mid-'70s oil crisis, Toyota was thinking about the sort of car it could make that would be fun to drive yet economical. Many layouts were considered and prototypes mulled over until the boss of the testing department, Akio Yoshida, and his colleagues decided that a mid-engine with transverse mounting was the way to go. A prototype codenamed SA-X was built in 1976 but the aforementioned crisis put the mockers on the project until it was revived in 1980. The SA-X was then substantially reworked and a concept called SV-3 built. We'll be dropping a name or two later, but for now all you need to know is that the prototype was tested at length at Willow Springs raceway by Dan Gurney.
The SV-3 broke ground at the Tokyo motor show in 1983. Little would change on the journey from concept to production car, with the only obvious differences being new front and rear spoilers that were designed to improve the car's stability in crosswinds. And a name change, of course, to MR2, for 'Midship Runabout Two-seater'. In June 1984 the MR2 went on sale in Japan, and sixth months later in the UK. 
Engine and transmission
European MR2s were exclusively fitted with Toyota's 4A-GE engine, which had already been used in the AE86 Corolla – the car that inspired today's GT86 coupe. The engine displaced 1587cc and was fitted with Denso electronic port fuel injection. Fairly exotic to have fuel injection and a sixteen-valve head (both of which warranted special badging) in the mid-'80s, let alone multi-point injection. Toyota's T-VIS variable intake system was also fitted and that really was advanced stuff on a small and affordable sports car. Power outputs varied market to market, but UK-spec cars (which didn't feature a catalytic converter) produced 122bhp. Even a five-speed gearbox was a bit sexy with sports cars such as the Triumph Spitfire and MGB still warm in their graves.
Suspension, steering and brakes
The mid-engined layout brought with it five steel bulkheads, and this in the days before high-strength steel was put into strategic positions via the wizardry of computer simulation – a combination that today sees body-in-whites shed kilograms with each new generation. All the same, the MR2 weighed 977kg (split 44:56, front to rear), making it a bit of a fatty compared to contemporary hatchbacks but still commendably light bearing in mind its semi-exotic spec.
> New Supra to be revealed at Geneva under Gazzo brand
MacPherson struts were used at each corner with disc brakes all-round. No power-steering was required in a small and light mid-engined car, of course, so there's just a simple rack and pinion to do the turning. All this slipped under a very distinctive body – lots of flat surfaces and a wedge profile. I challenge you to look from bumper to bumper at the Mk1 MR2 and find a detail half-inched from a rival manufacturer. It's not something that can be said of the Mk2, which as we know can be converted into a comedy Ferrari replica.
Interior
I remember how the MR2 drove but I remember nothing of its interior. It takes little time to change the ergonomics from the owner's settings to something I'm comfortable with. The steering is adjustable for height, not reach, but the seat is fully adjustable. The bliss of a simple instrument and control layout. There's only one stalk and that's for the indicators, and in Japanese fashion for the time, it is on the right. An extended finger from each hand can easily reach the simple knobs that sit each side of the instrument binnacle and control wipers and lights. They're a bit Citroën, which is meant as a compliment.
Rivals
Fiat's X1/9 was on sale throughout the Mk1 MR2's full-production lifespan, but it was outdated by comparison and much slower with a range-topping 1.5-litre engine developing 85bhp. Honda's CRX – first and second generation – models overlapped with the MR2 and weighed about 100kg less. The later Mk2 car was available with the VTEC B16 engine, which returned 148bhp and 107lb ft of torque.
In the 1980s the hot hatch movement was in full swing. With hatchback practically, low prices and MR2-rivalling levels of performance the Peugeot 205 GTi and the like were often preferred over the MR2 by thrill seekers on a budget.  
During the MR2's final year of production Mazda and Lotus fielded rivals in the shape of the MX-5 and M100 Elan respectively, although neither offered a mid-mounted engine. Mazda opted for the traditional sports car layout; front-engine rear-drive; whereas the Lotus was front-engine, front-drive. In reality, both were truer rivals of the second-gen MR2,  which arrived in 1989, shortly after the Mk1 was phased out. 
Specs
| | |
| --- | --- |
| Engine | In-line 4-cyl, 1587cc |
| Power | 122bhp @ 6600rpm |
| Torque  | 105lb ft @ 5000rpm |
| Transmission | Five-speed manual, rear-wheel drive |
| Front suspension | MacPherson struts, coilsprings, dampers |
| Rear suspension | MacPherson struts, coilsprings, dampers |
| Brakes | Ventilated front discs, solid reardiscs |
| Wheels | 5.5in x 14in front and rear |
| Tyres | 185/60 R14 front and rear |
| Weight | 977kg |
| Power-to-weight | 127bhp/ton |
| 0-60mph | 8.2sec (claimed) |
| Top speed | 124mph (claimed) |
| Price new | £9295.16 (1985) |
| Price now | £3000-6000 |
Review
The car is a facelifted Mk1, or an AW11B in MR2-speak. A redesigned air intake, different alloys and the availability of a T-roof are the main differences. I never liked the T-bar version, so it's nice that this car has only the factory sunroof (which, as I am about to find out, you need on a hot day because there's no air conditioning).
> Toyota launches GT86 Gazoo Racing Trophy race and rally series
It's 32 years since I last sat in one of these; the Mk2 had arrived by the time I started writing about cars. The passage of time is fascinating. If you go back 32 years from the launch of the MR2, you are in 1952, before the Mini, before the Jaguar E-type, and the year Lotus was born. Today, we'd probably call the MR2 a modern classic, but I'd never have referred to a Ford Prefect as a modern classic in 1985.
The engine starts with an immediacy that would have been astonishing to an owner coming in 1985 from a sports car with a pushrod engine, carburettor and choke. Perfectly placed pedals and a footrest in just the right place. The first thing you notice, and it takes as long as the first pothole or bump, is the Toyota's ride.
I don't know which tyre companies supplied the OEM fitment in the day, but this car rides on 185/60 Continentals and original 14in alloys. Perfectly sized aesthetically, and for the power-to-weight ratio of the car. And, it seems, perfectly matched to the suspension. If you go to the Wikipedia page for the MR2 you will read that the suspension had the magic wand of Roger Becker, Lotus's legendary engineer, waved over it. I wasn't so sure about this, so did a bit of detective work. Sadly, Roger Becker died earlier this year. I spoke to his son Matt, who after a career at Lotus is now responsible for the chassis dynamics of all Astons, much to the benefit of its customers. Matt remembers projects with Toyota but can't recall his father mentioning the original MR2. 'I'd give John Miles a call,' he suggested. Which I did. Miles, who raced in F1 for Lotus in the late-1960s before working on the firm's road cars, confirmed that they used an MR2 as a benchmark for the front-drive Elan, but had no recollection of Becker having worked on the Toyota's suspension. And neither is there any mention of Lotus having done so in Toyota's records. Supra and Corolla, yes, but not the little mid-engined car. Whatever, the MR2 most definitely has a Lotus feel about it.
> MR2, GT86, Supra: Toyota's three-strong sports car lineup is coming
The dampers, bushes and every part of this car's suspension are original, including the track rod ends. That's amazing. There is a little bit of vagueness in the steering in a straight line, but it's negligible. Could be down to tyre pressures or geometry. We tend to wax on about unassisted steering from cars of this era, but many of them were good on the go yet miserable at parking speeds. I owned a Peugeot 205 GTI at the time and that is a good example. Try a TVR Griffith with manual steering for further proof. The MR2 combines light steering weight with fantastic feel.
Even mildly sporty family cars today have deeply bolstered seats and I can't remember the last time I drove a car whose seats didn't offer enough support in committed corners. The MR2 is easily capable of generating forces that will have you floating out of your chair. The gearshift isn't as smooth as a modern gearbox's, either, but it's precise and, if you guide the lever accurately, fast. The whole car feels in rude health, with a smooth clutch and well-weighted, firm brake pedal.
A quick look in the classifieds revealed several good-looking Mk1s available for around £4500, although they might not be in as fine fettle as this one. I don't think that there is a classic car out there that is as good to drive and as entertaining as a Mk1 MR2 for anything like that money. Series 1 Lotus Elises are at least double, and we know the ridiculous prices being asked for Peugeot 205 GTIs. Perhaps the MR2 has an image of being a bit 'hairdresser', or excessive customising has tainted the car.