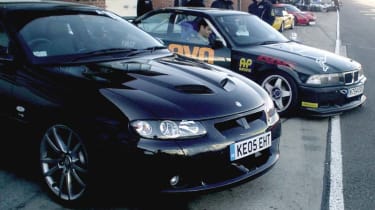 The last evoactive trackday of the year, at Brands in late September, was set to be a super-sliding smokefest. I had cunningly contrived to have a set of worn tyres, ripe for roasting, plus a brand new set mounted up on rims for the trip home. The sight and sound of the 6-litre Monaro monstering around the short Indy circuit was something I was looking forward to; road test ed Bovingdon was going to be there, too, in his project M3 and we'd planned to swap seats.
Our friends at Vauxhall HQ had managed to rustle up the set of spare rims, and a couple of days before Brands they were re-shod with a set of rather handsome Dunlop SP Sport Maxx tyres, as worn by the Monaro that acts as the pace car in the BTCC. The original-fit Pirelli P-Zero Rosso is reckoned to be the most comfortable-riding in the size (245/35 ZR19) so it'll be interesting to see what difference the Dunlops make.
The trackday started well. Within a couple of laps the Monaro was edging out at every corner on the Indy lap, even Paddock Hill, its V8 bellowing gloriously through the wonderful new after-market exhaust. Clearways was especially satisfying, the back end hung out for the length of third gear. Then, after about a half-dozen laps, it got suddenly louder. I suspected I knew why and cruised into the pits. There I discovered that the marshals were displeased with the amount of tyre noise at Clearways - local residents complain about this, apparently, which seems absurd - and also that the temporary plug in the exhaust where an oxygen sensor should be had popped out. I could only source an even more temporary plug, so it was game over for the day, though I did get a good strop in the project M3, and a very fine thing it is, too; grippy, precise and taut, like a proper touring car.
The Lambda sensor had been damaged when the Milltek-developed sports system was fitted, and a replacement has taken almost a month to arrive at the dealer. Its absence seems to have had little effect. As mentioned last month, since the new exhaust was fitted, the Monaro not only sounds fabulous, it also feels stronger and sharper. To that I can now add that economy has improved; the average has jumped from around 22 to 24mpg, and the previous best cruising figure of 24.1 has been raised to 26.1mpg.
Running Costs
| | |
| --- | --- |
| Date acquired | April 2005 |
| Total mileage | 11,385 |
| Costs this month | £800 (set of tyres) |
| Mileage this month | 1004 |
| MPG this month | 23.9mpg |