Autosport show highlights: Ariel Nomad, Radical RXC Spyder, Renault and more
The best cars from the show floor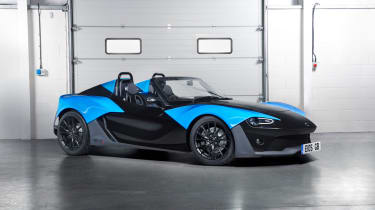 This year's Autosport show didn't disappoint, acting as a launch pad for some fantastically exciting new vehicles.
From race cars, to serious track day offerings, as well as a few extremely special road cars, there was plenty on hand to get evo excited.
Ariel Nomad
Autosport saw the much anticipated Ariel Nomad make an appearance in the flesh. Powered by a 2.4-litre Honda engine, it's putting out 221 lbft of torque and 221 bhp.
>Read: Ariel Nomad - Everything you need to know
The car is highly customisable, with optional wheels and tyres depending on surface, colour choices are also available. You can even fit it with a windscreen, which is a bit of a first for an Ariel. The car is pegged to start at around £30,000
Radical - RXC Spyder, SR3
The highlight of the Radical stand was the RXC Spyder. A proper race car, it's designed to sit above the SR8 in the Radical range.
The RXC has power steering, a seven speed gearbox and a TFT screen that gives plenty of information about the car while it's racing.
The engine consists of a 3.0-litre 440 bhp V8 which has to drag all 860 kilos of the Radical along a track. Prices start at £130,000.
Also on the stand was a Radical SR3. Priced in at £80,000 it's Radical's core track product. Revised aero and a 1500cc engine makes it an ideal choice for racing.
Lister Jaguar 'Knobbly'
One of what will be only ten cars put into preduction, is a beautiful recreation of the iconic Lister Jaguar 'Knobbly'.
Put together using the original jigs and drawings, as well as by some of the people who worked on the original cars, the Knobbly is a very exclusive thing indeed.
Sadly all ten cars have sold, but that doesn't stop us getting excited, particularly when you consider the car has a full D-Type 3.8 litre racing engine.
SIN cars R1 GT
SIN's road car made its debut at Autosport. Featuring a 450 bhp V8, carbon fibre body panels and a huge rear wing, it has all the staples of a proper supercar. At £75,000 it's also very good value.
The stripped back and fairly simple interior has a H-pattern six speed gearbox, plenty of controls on the wheel and a TFT dash.
Renault RS 01
Sporting an engine taking from a Nissan GT-R, Renault's offering at Autosport was definitely exciting.
The twin turbo unit from the Nissan is mounted in the back of the RS1, then covered up with a full bare carbon bodyshell. Generating 550bhp the car is, unlike the GT-R, rear wheel drive only and weighs just 1100kg.
Renault has designed the vehicle to race in its own single make series. Entry into what will be a fairly exclusive club is around £300,000 for a single RS 01.
Zenos E10 S
Commitment to lightweight doesn't get much more extreme than 725kg. Paired up with a 250bhp supercharged Ecoboost engine and a clever aluminium extruded spine running right through the centre of the car, it should be a very enjoyable drive.
Recycled carbon and steel make up the rest of the Zenos construction. The E10 S is the more powerful car in the Zenos range, with prices starting at £29,995. Windscreen optional.