This week at evo - Focus ST TDCi review, Tuthill Porsche, McLaren 675LT and more
Our round up of the best bits from evo this week
Still recovering from the Detroit motor show, the evo offices (and car park) have had plenty of things to talk about this week. Porsches galore, a few Fords and more rumours than you can shake a stick at.
Below is our favourite pics from evo.co.uk this week.
Ford Focus 2.0 ST TDCi review
First up, we were all surprised by Ford's Diesel ST offering. Not least because it arrived at evo towers in a rather fantastic battleship grey colour.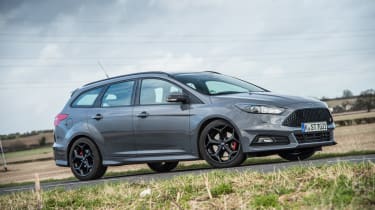 Then there was the fact it was a diesel. Controversial at first, but after a few drives it as evo's Stuart Gallagher put it "delivers a performance worthy of the badge"
Read: Ford Focus 2.0 ST TDCi review
Jethro Bovingdon's SharkWerks Porsche drift
Perhaps most impressive this week, or most shared at least, was this incredible video of Jethro Bovingdon drifting a SharkWerks prepped 911 GT3 RS up in Los Angeles.
Performed on a closed road, it gives you an idea of just what the SharkWerks car is capable of.
Richard Tuthill's Porsche 911 RGT
We have been following Tuthill's incredible Porsche RGT car from the start. This week, in the build up to Monte Carlo, was when it all started to propely come to life.
A fantastic feature from the team offered up some genuine insight into the goings on at Tuthill Porsche.
Read all about it here.
McLaren 675LT pictures emerge
Set for an official unveiling at Geneva, McLaren's 675LT could shape up to be a potential 458 Speciale rival.
Right now, we don't know that much about it, other than a set of teaser pics posted by McLaren themselves.
What we do like is McLaren's clever use of vehicle camo. Take a look at the gallery above to see the hidden McLaren F1 GTR Longtail.
Read: McLaren 675LT unveiled