Volkswagen's T-Roc - a crossover, SUV or CUV (compact utility vehicle) depending on your preferred definition - has become part of the furniture over the last few years, even sneaking into top-ten best-seller lists every now and then.
As it's based on the same platform as the Golf, it's no surprise that most mechanical parts carry straight over - and as sure as the sun rises, this means we now have the T-Roc R: all the best bits of the Volkswagen Golf R, installed in the taller, more practical T-Roc body.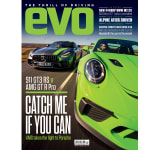 Subscribe to evo magazine
Experience the thrill of driving with evo magazine. Subscribe now and get your first 5 issues for £5 or buy the latest issue in all good newsagents!
SUVs are a touchy subject among car enthusiasts and performance SUVs even more so, but with the Golf R still going strong years after launch, can its talents be carried across unscathed to its high-rise sibling?
Engine, transmission and 0-60 time
It's the familiar EA888 at play here - a 2-litre, four-cylinder turbocharged petrol engine making, post-WLTP, 296bhp and 295lb ft of torque through a seven-speed DSG and Haldex all-wheel drive system, badged 4Motion.
We've seen the combination many times before, and in this iteration it's good for a 0-62mph time of 4.8 seconds, and a true top speed (not an electronically limited one) of 155mph. The acceleration time is just a tenth slower than the Golf R, though if the R's electronics were uncorked, it'd likely achieve a higher top speed by virtue of better aerodynamics.
Technical highlights
Mechanically similar to the Golf R the T-Roc R may be, but Volkswagen has made subtle changes to the SUV's underpinnings to ensure it's worthy of the R badge, despite its extra height and weight.
The biggest change has been to adjust the Haldex clutches so they deliver power to the rear wheels with more urgency - the idea being that with a more rear-biased setup under acceleration, the T-Roc claws back ground in terms of agility that it loses from its greater mass.
VW has also fitted an aluminium subframe at the front for lower weight and extra stiffness. It's an item that Golf GTIs get, but the Golf R curiously doesn't. The brakes, too, are directly from the Performance Pack version of the Golf R, with new pads again aimed at mitigating the car's extra bulk. A titanium Akrapovic exhaust system is optional.
What's it like to drive?
It's not earth-shattering news to report the T-Roc R drives not unlike a slightly taller and slightly heavier Golf R. There's 50kg between the pair (1575kg plays 1525kg) and the T-Roc R's centre of gravity is higher, so that ever so slightly blunts the CUV's responses to acceleration, braking and steering inputs.
The differences might become more apparent on a race track, but as few T-Roc R customers will ever go near one (unless they're using it to tow their race car), that's fairly academic. A Golf R certainly feels more lively, but the T-Roc counters with levels of traction, lateral grip and steering response that are as near as makes no difference to the Golf's.
It doesn't step off the line quite so smartly, and needs a smidge of extra pedal pressure to bring it down from higher speeds, but that's splitting hairs. The ride quality feels similar too and DCC adaptive dampers rode firmly, even in Comfort, but not unacceptably for what's effectively a hot hatchback.
It's worth noting that even with the Akrapovic system, the T-Roc R's mechanical noises aren't much to listen to - the burble at idle is nice, the drone higher in the rev range less so. But performance is still strong, the DSG still shifts cleanly and quickly, and the brakes still feel strong, though a little more pedal feel at the top of its travel would be nice, just for that extra reassurance. Oh, and while the cabin is broadly similar to the Golf's, and has a little extra space, the materials do feel a touch cheaper.
The argument for or against the T-Roc R's existence is therefore more of a philosophical one than an objective one. In most ways that matter, it performs similarly to its regular hatchback and wagon counterparts. Whether you'll buy it or not depends almost entirely on your view on SUVs as a whole...
Price and rivals
The Volkswagen T-Roc R starts at £38,450 in the UK and is available now. That price puts it around two grand more than a five-door Golf R, and actually a little more than the £37,370 Audi SQ2 which is effectively the same car. For driver appeal, it sits somewhere between the two, but much closer to the impressive Golf R than the overly firm-riding and slightly personality-free Audi.