Volkswagen Golf GT
There's a diesel version – and very good it is, too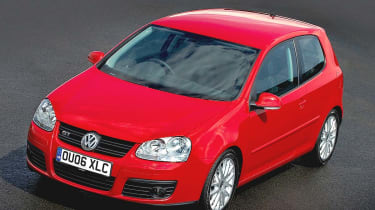 A little confusingly, the Golf GT doesn't just come with the intriguing turbo- and super-charged 'TSI' 1.4-litre petrol engine (evo 092). It's also available with a remarkable 2-litre diesel which boasts the same 168bhp as the TSI, giving what is believed to be the highest specific output of any production diesel engine. More than that, it generates spectacular torque – no less than 258lb ft, 80lb ft more than the TSI.
Visually, both GTs are identical but there's no confusing them when you fire up, with plenty of clatter at idle and appreciable thrum as the unit spins up. The output gains over previous TDIs are largely down to new 'piezo' injector technology, which employs very high fuel pressure – up to 2200bar.
Out of tighter corners the surge of torque, which peaks at 1750rpm, is enough to trigger the traction control. Previous potent Golf TDIs are similar, the difference with this version is at the top end. Like most diesels it's red-lined before 5000rpm but the engine doesn't wind down, like it's being choked, at 4000rpm, urge remaining strong up to and beyond 4500rpm.
This makes it feel that bit more sporting, though economy is still the best reason for opting for the TDI: the combined average is 46.3mpg compared with 38.2 for the TSI. Thing is, though, the GTI costs only £1300 more, so you've really got to value economy to go for the softer, more ordinary handling and visually tamer GT, be it petrol or diesel.
Specifications
| | |
| --- | --- |
| Engine | 4-cyl, 1968cc, turbodiesel |
| Max power | 168bhp @ 4200rpm |
| Max torque | 285 Ib ft @ 1750rpm |
| 0-60 | 8.2sec (claimed) |
| On sale | Now |