Volvo commences fitment of 112mph speed limiter on 2020 models
Volvo's revealed its first updated 2020 model, restricted as promised to a limited 112mph top speed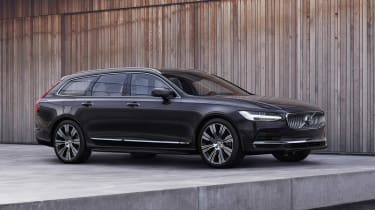 Volvo's contentious decision to fit all of its new models beyond 2020 with a 112mph speed limiter has now come to fruition. The move is part of Volvo's Vision 2020 policy, which in part involves the aim for no one person to be killed in any Volvo built from 2020 onwards.
Volvo says that according to its research, excessive speed is one of the most important factors involved in vehicle-related injuries and fatalities and that its pledge to fit speed limiters will go some way to reducing this. 'Because of our research we know where the problem areas are when it comes to ending serious injuries and fatalities in our cars. And while a speed limitation is not a cure-all, it's worth doing if we can even save one life,' said Håkan Samuelsson, president and chief executive of Volvo Cars.
Volvo's research is backed by data from the National Highway and Traffic Safety Administration which showed that 25 per cent of all traffic fatalities in the US in 2017 were caused by speeding.
'We want to start a conversation about whether car makers have the right or maybe even an obligation to install technology in cars that changes their driver's behaviour, to tackle things like speeding, intoxication or distraction,' said Samuelsson. 'We don't have a firm answer to this question, but believe we should take leadership in the discussion and be a pioneer.'
Volvo's decision to impose a mandatory speed limit itself is not without precedent, as for years now, the agreement of BMW, Mercedes and Audi's 155mph speed cap is not legally binding, rather an agreement. Nor is there any evidence that this type of speed cap would affect the development of performance models if it was to spread to other manufacturers, especially considering Japan has itself had a government-mandated 112mph speed cap in place since 1988.
GPS based speed controls possible in future
Volvo is also investigating whether further smart speed controls could be introduced via GPS and geofencing technology to automatically limit vehicle speeds around schools and hospitals in the future. Volvo's safety expert Jan Ivarsson commented: 'People often drive too fast in a given traffic situation and have poor speed adaption in relation to that traffic situation and their own capabilities as a driver. We need to support better behaviour and help people realise and understand that speeding is dangerous.'
While Volvo is currently focusing on speed, it also says it recognises other important factors such as intoxication and distraction as other major causes of traffic fatalities. Driving under the influence of alcohol or drugs remains a prime reason for injuries and fatalities on today's roads. On drivers being distracted Volvo says: 'Drivers distracted by their mobile phones or otherwise not fully engaged in driving are another major cause of traffic fatalities. In many ways, they are equally as dangerous as drunk drivers.'
> UK speeding fines: what are the penalties for drivers?
Perhaps a wiser move rather than fitting an arbitrary speed limiter would be to reduce the number of distractions for a driver. The prevalence of touchscreens forces drivers to take their eyes off the road and delve into complex menus to adjust some vehicle's most basic functions – how can that be viewed as progress in regard to safety? And then there's the current obsession with vehicle 'connectivity' so we can all read our emails and text messages while driving – curbing these features would seem far more relevant than a need for a speed limiter that doesn't come into play until a car's travelling 40mph over the UK's motorway speed limit.
Whatever one thinks about Volvo's plans it's probable that speed limiters will come into play in the coming years. Members of the European Parliament recently voted in favour of a number of proposals from The European Transport Safety Council – and one of those was the adoption of 'Intelligent Speed Assistance'.