Volvo C30
Distinctive looks and economical but we'd trade the handling a smidgen for a smoother ride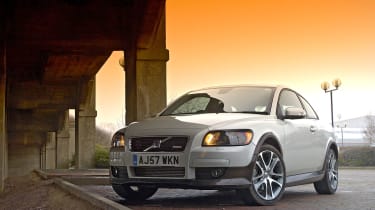 I'd admired the C30 T5 in the evo car park on many occasions when Chee, our recently departed art editor, ran it, but only this month did I get to drive it, by which time I'd already made up my mind about how I wanted it to feel.
I should confess that I'm sold on the idea of the C30. I love how different it looks to anything else, being neither a fast hatch nor a slinky coupe, but a bit of both. And if you're going to have one, you might as well go for Cosmic White with Java Pearl (duck egg blue with metallic brown, to you and me), because it seems to bring out the best in the chunky, strong-shouldered shape.
I also like the grown-up feel the C30 projects with its well-defined two-seat rear accommodation and its limited luggage space, compromised in the name of style (the glass rear hatch is a nod to the classic Volvo P1800). The C30 seems to say, 'If you're looking for family-style practicality, look elsewhere.'
As far as I'm concerned, this engenders certain expectations. I'd hoped for a grown-up driving experience to go with its design, and the character-rich five-cylinder engine is a good start. It offers refined, characterful and effortless performance, delivering slightly more horsepower than the Focus ST with which the T5 shares both its engine and its chassis. The Volvo's handling seems a bit less nose-heavy than the Focus, too, which is also a good thing.
However, the area where I was really hoping the Volvo would score is its ride, and here it's not so good. The C30 feels busy over small bumps, and the big tyres on those handsome 18in rims feed a surprising level of noise into the cockpit on anything less than very smooth asphalt, which is a shame. I'd happily trade a little of the handling's edge for smoother progress, especially as the soft throttle action and long gearing (over 100mph in third) give the C30 a leisurely gait. A car that looks so different – inside and out – to the fast-hatch herd should have the confidence to follow its own dynamic agenda too.
That said, I'm still a fan of the distinctive little Volvo. It's a good place to be for long distances, economy is reasonable thanks to that gearing, and I can never resist looking back when I've parked it.
Running Costs
| | |
| --- | --- |
| Date acquired | December 2007 |
| Total mileage | 6152 |
| Costs this month | £0 |
| Mileage this month | 1280 |
| MPG this month | 27.0 |