Volvo S90 teased, new saloon set for 2016 unveiling
Safety technology and XC90 styling likely for saloon cousin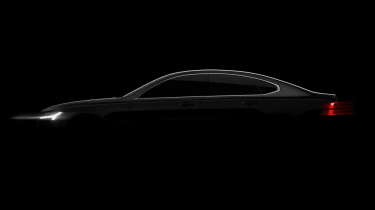 Volvo has teased its brand new S90 saloon before its full unveiling at the 2016 Detroit Motor Show in January. Designed as a replacement for the S80 and to rival the likes of the Mercedes Benz E-Class, the car will likely draw heavily from lessons learned with the XC90 SUV.
The car's focus will undoubtedly be on safety and technology, both current strongpoints of Volvo's new model range. While little is revealed about the S90's design language from the teaser images, earlier leaks point to a very similar look and feel to that of the XC90.
Volvo's 'Thor's hammer' LED headlights can be seen in the teaser images, while sleeker and simpler lines than the S80 the car replaces are also visible.
>Read our Volvo XC90 review here
Volvo utilises what its calls its SPA (scaleable platform architecture) in all its new cars. A common chassis floorplan not unlike VW group's MQB platform, the SPA is only capable of accepting a four-cylinder 2-litre engine which can be run in either diesel, petrol or hybrid form. Expect this very engine, in most of its various states of tune, to appear in the S90 in future.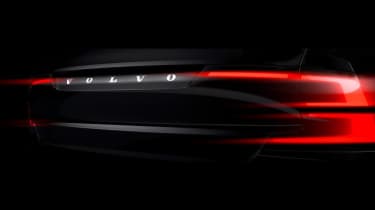 Pricing is still TBC, but the S90 will need to cost around the £30,000 mark if it's to compete with rivals. Availability is likely somewhere in mid-2017.
Volvo currently aims to have no single person killed or seriously injured in one of its new cars by 2020. A hugely ambitious goal, you can expect the S90 to have a serious focus on cutting-edge safety tech. Currently the XC90 uses intelligent seats that are capable or absorbing shock between the seat and seat frame cushions in order to avoid spinal injuries in a crash. Lane keeping aids, auto-braking at intersections and a raft of other safety measures are all as standard in the car. These will no doubt be transferred over to the S90.