Fiat 500 Abarth buying guide and checklist
The reborn fast 500 is reliable, holds its value well and is a hoot to drive. Here's what you need to know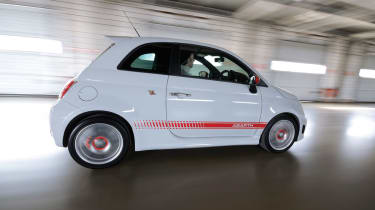 Fiat Abarth 500. To a certain generation prone to misty-eyed, Castrol R-scented nostalgia, the instant mental image is of a tiny car with an exhaust note like an angry bee, scooting around Europe's racetracks in the 1960s. British Abarth fans would beat a path to Radbourne Racing in Wimbledon, where kits could be bought and cars converted. Happy days.
Today it's different. What you see on these pages is something else altogether. The reincarnated, xeroxed-up, modern-day 500 recreates and reinterprets the look of the original brilliantly, and of course it has been a huge success. That much was guaranteed as soon as the world saw the Trepiuno concept car that sired the whole 500 idea. 'Even my mother told me we had to make it,' said then-Fiat CEO Luca de Meo, 'so we did.'
The Abarth name, long kept in Fiat's deep freeze apart from occasional thaws on hot Stradas and warm Stilos, was the obvious tag for a hot 'new' 500. There hasn't been a real Abarth tuning company for many years, but there is nowadays a separate Abarth division within Fiat which handles the styling, the marketing and the engineering.
It's all sufficiently corporate for Fiat not to have sought commercial relationships with specialists in past Abarths, instead selling today's Abarth-tuned models through a few chosen Fiat dealers. But, with those scorpion badges and stripes, the intended aura is very clear.
Fiat actually sees Abarth as a separate brand, and the cars bear no Fiat badging. In these days of widespread turbocharging of small-capacity engines, extracting extra power is mainly down to electronic tweaking of boost pressures, with a freer-flowing exhaust to let the extra gases out. So the Abarth 500's 1.4-litre engine gets 133bhp instead of the standard T-jet unit's 118, but in the 500's case there's a bit more to it than that, because non-Abarths with petrol engines don't have turbos. The 118bhp T-jet is meant for bigger Fiats.
So the Abarth's deeper nose with its broad air intake is designed to accommodate the intercooler, and there's a deeper rear valance in similar style with a pair of fat tailpipes beneath. Inside, the seats are racier-looking with bigger bolsters, there's a boost gauge in a dash-top pod, and the annoying change-up light within it becomes a rev-limit warning in Sport mode. This mode also sharpens the throttle response, firms the steering and adds 20lb ft of torque to the regular 132lb ft.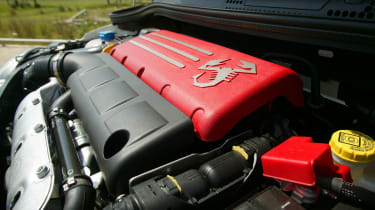 Standard wheel size is 16in, with 17in optional. The lowered, recalibrated suspension caused alarm bells to ring in road-testers' minds when it was announced, because even regular 500s had been pretty poor at coping with UK roads. But we needn't have worried, because the Abarth turned out to have a much better ride than the regular car as well as tidier, keener handling, despite retaining an oddly 'digital' feel to the electric power steering. The cute-looking 500 had morphed into a proper driving machine.
You could attempt to make it more so with the Esseesse version, which involved an Abarth kit (£2500 at the 500's March 2009 UK launch) fitted to the 500 after registration (up to a year after, in fact). This comprised a chip remap and freer-flowing air filter to give 158bhp and 170lb ft, along with the 17in wheels, cross-drilled brakes and lower, much stiffer suspension. There's no doubt that an Esseesse goes well, with the claimed 0-62mph time falling from 7.9 to 7.4 seconds, but the ride quality on British back-roads is truly dreadful.
A better, and cheaper, bet is to get a tuning firm to do the power boost and either keep the standard suspension or fit a less unyielding 'upgrade'. Nuova 500, for example, can uprate the engine to 170bhp for £295. Now that sounds a lot of fun.
What we said at the time
'Let's not pretend otherwise: the Fiat is no Ford Fiesta ST or Mini John Cooper Works. The addition of 20bhp, stiffer springs and dampers, meatier brakes and a fruitier exhaust over the regular Abarth 595 doesn't re-write the rules for this hyperactive tot. But that's hardly surprising. The most extreme 'hardcore' version of Fiat's normally harmless city car hasn't been honed to deliver the ultimate hot hatch experience. 
'Its sweet spot is somewhere around seven- and eight-tenths. Don't stray too far from there and you'll find the charm shines through.'
Full review of the Fiat 500 Abarth 595 50th Anniversary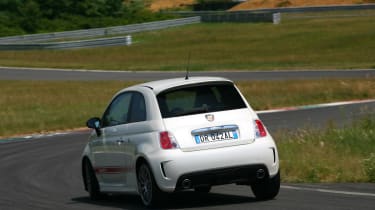 'I bought one'
Alex Gadd - Alex is British but lives in Holland, where he took delivery of his black Abarth 500 on New Year's Eve 2009. He kept it for 10 months, during which he covered 12,000 miles, including driving it to Rome and back via the Stelvio Pass and the south of France.
'Last summer I took my Abarth to G-Tech in Stuttgart for a chip upgrade and a titanium exhaust, which gave it 175bhp and 184lb ft. It became a giant-killer, a real cheeky chappie attracting the right sort of attention.
'The Blue&Me went on the blink and had to be replaced, and the Abarth stripes flaked off. The new ones were fine. Normal Fiat dealers aren't meant to touch Abarths, though. The standard dealer wouldn't even go near the Blue&Me even though it's the same as a normal 500's.
'It liked to eat front tyres – mine lasted only 10,000 miles – but the Torque Transfer Control [an electronic, understeer-inhibiting, virtual LSD] worked well. I used Sport mode all the time – why wouldn't you in an Abarth? – so it averaged only about 25mpg.
'It was reliable, it had no rattles, it held its value well and was easy to sell. We did an organised rally in Holland, competing against Ferraris and the like, and we won the whole thing…'