Rockingham track days: info, circuit maps and driving tips - Rockingham Motor Speedway - history
Rockingham transformed during the planning stages from a simple test track into a full motor circuit with 10 track variations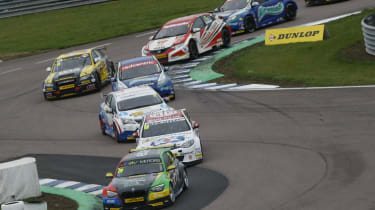 For years, American Champ Car and Indianapolis Racing cars were built in Britain, but suffered without an appropriate venue at which to test them. Rockingham was first proposed as a simple test track, but growing demand for a motorsports venue led the plans to be transformed into a full circuit.
Constructed on industrial wasteland left over from a steelworks, Rockingham first opened in January 2001, and became one of only a few purpose-built racetracks in the country – and the first banked oval built since Brooklands, in 1907.
Rockingham's 'fastest circuit in Europe' gong came in its first year of operation. Set on the rarely-used Oval Circuit, Tony Kanaan lapped the 1.47 mile oval in just 24.719 seconds, giving him an average speed of 215.397mph.
> evo track evenings 2017 - book your spot now
The ISSC uses part of the oval for turn 1, but the remainder of the infield is much more technical and therefore slower. The lap record for this currently stands at 1:12.6, set by Marko Asmer in his Dallara-Mercedes Formula Three car in 2007.
Formula Three, BTCC and British GT all hold rounds of their championships at Rockingham, and trackdays are regularly run too – including evo's own track evenings.