Rockingham track days: info, circuit maps and driving tips
Rockingham offers a unique experience for drivers – including a banked high-speed oval and technical infield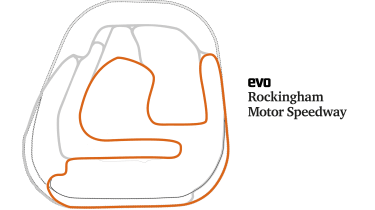 Rockingham Motor Speedway is one of the UK's newest motorsport venues, and hosts the usual mixture of track days, vehicle events, driving experiences and training and motor racing. Rockingham claims to be the fastest circuit in Europe.
Rockingham has 13 possible configurations, though the one used most often is the International Super Sportscar Circuit – marked out from other UK circuits by its fast and challenging turn 1 (including 7-degree banking) and technical infield.
> evo track evenings in association with GT Radial - book your spot now
It's a circuit with plenty to challenge even a skilled driver, which is why it's one of the venues for evo's track evenings in 2017. If you're coming along to watch, Rockingham's grandstand is enormous and offers a great view of the entire track – great for spectators. There's a further spectator viewing area on top of the pit garages.
Information
Website: www.rockingham.co.uk
Phone: 01536 500 500
Address: Rockingham Motor Speedway, Mitchell Road, Corby, Northamptonshire, NN17 5AF
Circuit length: Oval Circuit: 1.47 miles International Super Sportscar Circuit: 1.94 miles
Noise limit: 105dB (static)
Directions: Rockingham is just outside Corby, and signposted all the way from the A14 midway between the M1 and A1
Hotels near Rockingham Motor Speedway:
Holiday Inn Corby (2.0 miles away, http://www.hicorby.com/)
The Raven Hotel (0.8 miles away, http://www.theravenhotel.com/)
Barford Top Campsite (2.5 miles away, https://www.barfordtopcampsite.co.uk/)