Although leather is widely considered the premium choice for car upholstery, there are still plenty of people who prefer fabric. It's softer, warmer and ultimately less slippery - but unfortunately, it's also much easier to stain. 
That's where car fabric protectors come in. These sprays coat the fabric in a hydrophobic layer, meaning liquid simply beads across it, rather than making its way into the fibres and creating stains.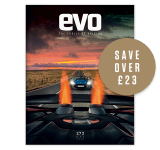 Subscribe to evo magazine
Subscribe today to have every issue of evo delivered straight to you. You'll SAVE 39% on the shop price, and get evo for its original cover price for a whole year!
We put a number of fabric protectors to the test, and have ranked them accordingly.
The test
For our test, we divided a piece of car seat fabric into different sections, one for each product. Next, we applied the products on test as laid out in the manufacturer's instructions (some, it should be noted, stipulated that multiple coats were applied or that the sprayed product be left to 'cure'.)
After that, we tested each product's hydrophobic qualities with cola, hot coffee and butter. Naturally, we rated each fabric protector on how well they sealed the fabric, but we also checked to make sure they didn't leave an unpleasant smell, or change the feel of the fabric. Other criteria included the ease of application and, of course, value for money.
The verdict
Ultimately, the Dodo Juice came out on top. Gyeon Q2 Fabric Coat did finish a close second, though, being still very efficient and simple to apply. Scooping up the bronze medal is Scotchgard's Multi-Purpose, which offered strong protection and was easy to use.
1. Dodo Juice Supernatural Fabric Sealant
2. Gyeon Q2 Fabric Coat
3. Scotchgard Multi-Purpose
Our reviews
Dodo Juice Supernatural Fabric Sealant
Price: around £16
Size: 500ml
Rating: 5/5
We've found that UK company Dodo Juice's products frequently perform well in our tests, and this fabric protector is no exception. Supernatural Fabric Sealant worked well on our car seat after just one single spray coat. That said, the company does recommend brushing or rolling the liquid across the fabric three to four times for total protection - it's a testament to the product when we describe this as overkill. Nothing we threw at this sealant broke through the coverage it offered.
Gyeon Q2 Fabric Coat
Price: around £34.95
Size: 400ml
Rating: 4.5/5
Having won first place in our test for two consecutive years, we weren't surprised to witness the Q2 Fabric Coat's stellar performance - but as it's more than twice the price of the Dodo Juice, it was always going to come second. Gyeon claims two heavy sprays, with an hour's interval, would guarantee full protection. We found it left a strong smell, and one that hung around for quite some time afterwards. A strong, if pricey, silver medal winner.
Buy it from Clean your Car here
Scotchgard Multi-Purpose
Price: around £9
Size: 400ml
Rating: 4/5 
Curiously, we found that Scotchgard's Multi-Purpose performs better than the car-specific version, and offers a strong level of protection for a competitive price. The application process is easy: you simply put on a thin coat, and let it cure overnight. The protector resisted our three liquids well: the cola or coffee both beaded over, while the butter left no grease stain at all. That it's been reduced in price since our last test only makes it a better bet.
Colourlock Waterproofing Leather and Textile
Price: around £13
Size: 500ml
Rating: 3.5/5 
If you want to cover a large area, fabric protectors in aerosol form are a good shout, such as this product from Colourlock. It offers decent enough protection when cured, and the strong initial smell swiftly faded - we found that repeated dousings of cola rolled off with no issue, and the butter didn't leave a strain, but coffee eventually soaked through. So this is not one to choose if you tend to pick up a latte at the petrol station.
G3 Pro Fabric Protectant
Price: around £9
Size: 500ml
Rating: 3/5
This spray bottle from G3 offers both good protection and good value, along with easy enough application - all you need to do is apply a light coat, and leave it to dry overnight. After that, we found that liquids beaded off to begin with, but the protection proved short-lived, unfortunately. Also, the whiff it gives off is quite strong and, call us pedantic, but we'd prefer to have a transparent bottle so we can gauge how much of the product is left. You don't want to be halfway through spray your car's interior only to find it's run out, after all.
Bickmore Gard-More
Price: around £10.99
Size: 236ml
Rating: 3/5
The US-based company Bickmore sells its products on Amazon, where the marketing copy describes this fabric protector as ideal for vehicle upholstery. In actuality, the pump's small spray nozzle makes it more suitable for clothes, hats and other garments rather than car interiors, since spraying is quite time-consuming. But the protection is reasonable strong once on the fabric, though it worked better with the cola and coffee: the butter left a greasy stain.
Muc-Off Fabric Protect
Price: around £11
Size: 400ml
Rating: 2.5/5
This product requires three coats in order to work, so while the cheap price might look like a draw, it doesn't work out to be such good value. The protection it does offer isn't particularly remarkable either, as we found coffee soaked completely through, as did the cola after a few applications. It did resist the butter stain, however, and didn't leave a bad smell or rough texture. But given the number of superior options available at the price, we can't be that positive about the Muc-Off.
Fabsil Universal Protector
Price: around £7
Size: 600ml
Rating: 1.5/5 
Given the shop's reputation, Halfords has done itself a real disservice in the form of this disappointing fabric protector. Even though it's highly rated as a protector for tent fabric, it did little good on our car seat. The cola and coffee both soaked through near-instantaneously - and when we added an extra coat, it only offered a marginal improvement. Hold on to the Fabsil for when you next go camping, and pick another product from this list for your car.