Our best Alfa Romeo memories - from Giulias to GTAs
Wonder why we're so excited that the new Alfa Romeo Giulia is as good as it is? Here are the experiences it has to live up to
Alfa Romeos, for better or worse, get under your skin. Few brands command such loyalty from their followers even through the bad times, and few stories generate such hope as talk of an Alfa renaissance.
Perhaps the excellent Giulia QV will finally herald the latter, but it'll be a while before the whole evo team has driven it. That's something to look forward to, but many of us already have past Alfa experience to shape our opinions on the brand.
Here's what Alfa means to us - and let us know your own Alfa experiences below, or via our Facebook and Twitter feeds.
Nick Trott - editor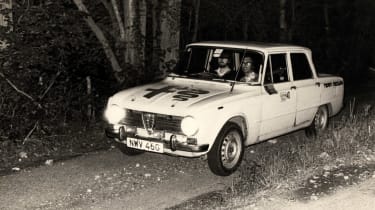 My most memorable experience isn't of driving or owning an Alfa - but listening to my Dad talk about his beloved Giulia. How he rallied it. Crashed it. Blew it up. Rebuilt it. No doubt these stories encouraged me to want to write about cars.
Henry Catchpole – features editor
It's always a special moment when you realise that you will have to add another imaginary door to your dream garage. Sideways out of the hairpin you catch the easily-provoked slide and hold it for as long as you want. Up to third with the long wand of a gearstick, that feels more precise than it looks. Climbing the hill the 2-litre Twin Spark engine gruffly but eagerly piles on the revs. The car is so small that even narrow lanes feel like fair game and you can place it just where you want on the road. Inside, it's stripped back, but not sparse and I conclude that I would happily drive it every day.
Yes, in the sunshine in south Wales on that day in 2015 the Alfaholics GTA-R secured a space in the Catchpole dream garage.
Dan Prosser – road test editor
The Alfaholics GTA-R. It's been heavily improved - modified doesn't seem like the right word - by Alfaholics but it started life as an Alfa Romeo so it still counts…
To be honest it's the only Alfa I've ever really fallen for. Every modern Alfa I've road tested has been lukewarm at best and others, like the Mito and Brera, have been pretty forgettable. Sounds as though the new Giulia QV will put that right.
The GTA-R was a honey though, with perfect proportions and detailing, a glorious four-cylinder soundtrack and lively, entertaining handling.
Will Beaumont – staff writer
My Dad has had a 1971 2000 GTV since he was 21. Sadly, it hasn't been on the road since I was born. This isn't some joke conforming to the lazy stereotype that Alfas are all catastrophically unreliable, no. It was taken off the road when it ran and no one's got round to making it road worthy, yet. Time hasn't been kind to it; the reputation that Alfas have for rusting? That one's true.
I might never have seen it run, but I have seen it on film. Dad's Alfa competed in the 1971 Tour of Britain driven by Stan Clark, brother of Roger Clark. It wasn't one of the front running cars, so it hasn't got the most glorious history, but it's enough to make it slightly more interesting than just any 2000 GTV.
I spent a lot of my childhood behind the steering wheel pretending to drive it. I can't tell you what the gently modified 2-litre twin-cam 'Nord' engine running on twin 45 Webers actually sounds like, but I used to be able to do a great impression of what I thought it might be like.
You could say I was indoctrinated from an early age to like Alfas. That made the 4C even more disappointing when I drove it. I so badly wanted to love that car, but couldn't get over some of the fundamental issues it has; no matter how good it looks, nor how much of an Alfa it is.
Antony Ingram – staff writer
All my Alfa experiences have been disappointingly brief, but enjoyable in their own way. A very brief go in a rally-prepared Giulia GTV at Race Retro a few years back was entertaining, albeit not as delicate to drive as I was expecting. I'm blaming wide tyres for that.
It's an unusual car that sticks in my memory though: the first Alfa I ever drove, a late-90s 146 in an rare and unusual shade of gold. And yes, I was considering buying it, as the image above suggests.
While the driving position left much to be desired, I really enjoyed the 1.8-litre Twin Spark engine and the darty steering. I've always quite liked the styling too – these were the Alfas around when I was first becoming interested in cars in the mid 90s. And contrary to modern consensus, many enjoyed quite positive reviews back in the day.