You've probably already decided whether you want an Alfa Romeo Giulia or not, but if you were still on the fence – perhaps lamenting the lack of a model between the regular 197bhp petrol Giulia and the crazy Giulia Quadrifoglio – then the new Veloce fills that gap.
The Veloce looks a lot like the range-topping QV, but it's a third cheaper to buy. It still offers a useful performance increase over lesser Giulias, though. Is it the sweet spot in the range?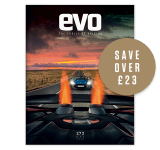 Subscribe to evo magazine
Subscribe today to have every issue of evo delivered straight to you. You'll SAVE 39% on the shop price, and get evo for its original cover price for a whole year!
Engine, performance and 0-60mph time
Veloce models use the same all-aluminium, 1995cc turbocharged inline four as other petrol Giulias, but tuned for extra power and torque. Figures are now the same as they are in the heavier Stelvio, with 276bhp at 5250rpm and a 295lb ft hit of torque from 2250rpm, enabling a 5.2-second 0-62mph time and a top speed of 149mph. Gearchanges are handled by an eight-speed torque converter automatic, and power in UK models is sent to the rear wheels.
From the sculpted driver's seat the Veloce certainly feels quick, and our test car would probably feel quicker still with a few thousand miles under its belt to loosen up the engine. As it is, the four-pot in our Veolce was reluctant to explore the last few hundred rpm before the red line, but there's strong mid-range performance and it's frequently accompanied by a growl from the exhaust. Flicking up and down the gears with the aluminium gearshift paddles – much like those on a Ferrari 488 – is a joy, and the gearbox responds quickly to your commands.
Technical highlights
Alfa has made real efforts to keep the Giulia's weight down, and it's resulted in the rear-drive Veloce weighing 1429kg, while the Q4 driven here is 1530kg.
Veloce models get the option of a new paint shade – the Misano Blue you see here, plus 18-inch wheels as standard. Our test car wore 19-inch Quadrifoglio-style five-hole rims. The performance Giulia also influences the front and rear bumpers, while inside you get leather sports seats and aluminium trim elements.
What's it like to drive?
The Giulia continues to impress. The Veloce might not deliver quite the same pick-your-jaw-off-the-floor enjoyment and performance as the Quadrifoglio, but there's still genuine fun to be had threading it down a twisty road, while contributing enough ease-of-use and refinement that it won't drive you up the wall on your commute.
Dissect its talents and you're left with a few stand-out features: steering, agility, response, and much as it pains us to say it, character. The steering has the biggest part to play in the driving experience, with a very fast rate of response and a level of accuracy that means you never fail to place the Veloce exactly where you want it.
> Alfa Romeo Stelvio review - is Alfa's new SUV as good as we'd hoped?
It's almost too quick to react at first, but you soon adapt and while some may prefer a little more weight to the steering, the lightness feels entirely appropriate for what is a positively flyweight car by the standards of the class. That there's not much actual feedback barely seems to matter, because whether you're coursing through a constant radius turn or darting the car through quick direction changes (there's that agility), the result is always metered to your inputs.
There's plenty of grip too, and on Italian back roads – which aren't quite as cratered as those in the UK, but not as smooth as those in Spain or Germany – the ride is quite pliant, even on the optional 19-inch wheels.
Traction on dry roads is excellent in Q4 spec, and there's just enough rearward bias in the drivetrain to prevent the nose washing out on the exit of corners. The rear-drive version should be even more throttle-adjustable, though all non-Quadrifoglio Giulias feature ESP that can't be fully deactivated, so smokey powerslides probably won't be the car's default state regardless.
Response comes in the form of both the steering and the aforementioned ability to react to throttle inputs. And character? We have reservations over some details of the Alfa's cabin, but sat in a great driving position behind the attractive three-spoke steering wheel with its Ferrari-style paddles, the Giulia Veloce does feel a bit special next to more humdrum German alternatives.
Price and rivals
The Giulia Veloce starts at £37,935, which makes it about two-thirds the price of a Quadrifoglio and around £6500 more than a 197bhp petrol Giulia Super. It also pitches the Veloce £2315 above a BMW 330i M Sport with the optional automatic transmission, a few hundred less than an all-wheel drive Audi A4 S Line Quattro S Tronic, and around £4000 more than a Jaguar XE R-Sport auto with 247bhp.
There's no real equivalent in the Mercedes-Benz C-class range, and direct rivals from Lexus and Infiniti fall short on performance while also failing to match the Alfa's thrills. Unfortunately, most rivals are still built a little better than the Giulia – our test car had some fairly wonky panel gaps and certain elements, notably the gear selector, look and feel quite low-rent.