Ariel Atom buying guide
A great British success story, the Ariel Atom serves up as many thrills as you can handle. Here's what you need to know about buying one.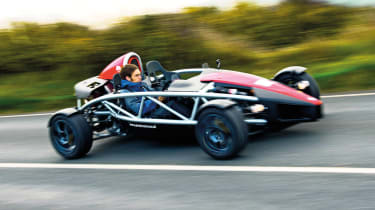 The Atom dates back to the mid-'90s, when freelance car designer Simon Saunders had the idea of updating the Lotus Seven concept. Then a transport design lecturer, he worked up some CAD drawings with one of his students, Nik Smart. Several sports car firms rejected his idea, so he set up the Ariel Motor Company to build the Atom himself.
Arch Motors collaborated on the steel skeleton and Saunders set about sourcing mechanical components. Power came initially from the 1.8-litre Rover K-series engine and the basic model had 120bhp, which in a car weighing under 500kg gave scintillating performance, with 0-60mph taking 5.6sec. The 140, 165 and 190 versions soon followed (helpfully, the Atom's model name always refers to the bhp output).
Search through hundreds of sportscars on evo Cars for Sale
Prices started at £16,997 in 2000. Not cheap, but the Atom came with top-quality components: Titan Motorsport pedal box and steering rack, SPA instrument pack, and inboard Koni springs and dampers. Options included a close-ratio gearbox (£493), grooved competition discs and pads (£1100) and double-adjustable Konis (£1169).
The Atom 2 arrived in 2003 with the 2-litre unit from the Honda Civic Type-R (for the 220) and Type-S (for the 160). In 2004 a Jackson Racing supercharger was bolted to the Type-R unit to create the Atom 275, with a 0-60 time of 3.4sec. Engine development raised power to 245bhp (nat-asp) and 300bhp (supercharged) by 2005. The Atom 3, with the smoother 'KZ' Type-R engine and new gearbox, launched in 2007.
Atoms aren't cheap, and an abused one could be expensive to put right, but few supercars deliver a bigger thump or grab more attention.
'I bought one'
Paul Pacey - 'I was in my late 50s and approaching retirement, so I decided to get a sports car as a present to myself. I tried a Z4 and an SLK, but I had a friend who lived near Bristol, so we popped down to the Ariel factory in Crewkerne and tried an Atom. That was it: coming from the police, I like driving fast and the Atom made the SLK feel like a two-door saloon.
'I got my Atom 3 245 three years ago and I've done 21,000 miles in it. I use it almost everywhere – even to the south of France last year. On the way back I did 700 miles in one hit; it was tiring, but there were no aches and I'm 6ft 4in.
'I'd had motorbikes when I was young, so I don't mind the exposure, or wearing a helmet and all the gear. In winter I dress like I'm going skiing, with extra waterproofs if it's raining. But the beauty is that when it's hot, unlike a motorbike where you still have to wear leathers, you can drive in T-shirt and shorts.
'It's very affordable to run; I get 30-35mpg, rear tyres seem to last about 8000 miles and I do most of the routine servicing myself. A year ago I had a rear light bulb blow, but nothing else has gone wrong. And the reaction to it is brilliant – everyone seems to love the Atom.'