The Lancia Delta Integrale Evo's rear spoiler - Art of Speed
Bolt upright and covered in Martini - not James Bond after an encounter with a femme fatale, but the Integrale Evo's spoiler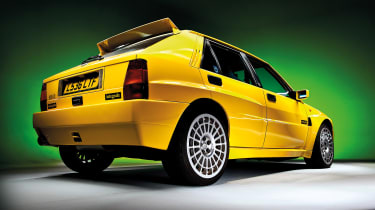 Conspicuous aero on hatchbacks. It's a controversial subject, chiefly because if a Porsche GT3 RS 4.0 needs to devour roughly the length of football pitch per second to develop any meaningful downforce, what good is a sliver of plastic on the roof of an A-class? Not a lot, apparently. Mark Webber once said he'd like to find a driver who could tell whether or not a second-gen Focus RS was wearing its wing 'in any situation, ever'. That from a man who worked with Adrian Newey.
So where, with its primitive spoiler, does this leave the no-nonsense Integrale? Not exactly on the brink of the frippery wormhole (down which lurks the Escort Cosworth), but perhaps too close for comfort.
Lancia made many changes to its homologated hatch for the 'Evo' version of '91, most backed by science, but the aluminium spoiler wasn't one of them. There were bulbous new arches for widened tracks, reworked sparks and injectors gave the 2-litre engine real flexibility, comparatively lightweight Speedline wheels usurped the pepper-pots, and a pig-eyed expression was adopted with smaller but more intense headlights. Yet while all these saw competition, at first the spoiler's only value was as a quick way of telling whether the 'Grale that just left your M3 for dead was a hardcore Evo or just a garden model. (After all, both would do the job.)
> Lancia Delta Integrale – review, history, prices and specs
Every car was born with its tail meekly flat. However, factory-supplied brackets meant owners could instigate a personality change by raising it through two angles of attack. And despite the lovely image above, no one went out half-cocked. You either had it bolt-upright and remortgaged the house to cover the fuel bills or kept it streamlined but risked your £23,000 hatchback-cum-supercar being mistaken for something more ordinary. If your spoiler just happened to have 'MARTINI RACING' scribed loud and proud along its length… well, the choice was made for you.
Eventually it did go racing. Already approved for the road, onto the rally cars it went during the '92 season, and in the hands of Kankkunen and Auriol proved effective in reducing lift. It took the skill of those men, driving flat-out, probably on a loose surface, steering from the rear, and of course with no fuel bills to worry about, to exploit any gains, but that was hardly the point. The spoiler now possessed the rarest commodity in the world of aerodynamic road-car addenda: credibility.
Even so, what owners really loved was that it gave their cars, which took on the nose-down-tail-up likeness of a beagle furiously tracking a scent, even more charisma. In fact the car was now full to bursting.
Integrale photo by James Lipman