Ferrari 599 GTB Fiorano flying buttresses - Art of Speed
The story behind the 599's most recognisable feature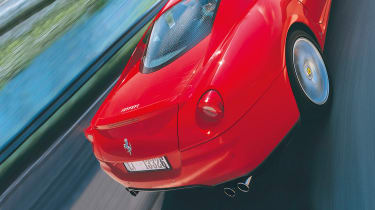 The beat of Luca di Montezemolo's brogued Oxfords pauses. Ferrari's disarmingly debonair chairman has been circling a scale model of a proposal for the company's new-for-2006 GT supercar and has detected a not-so-subtle buttress cascading from the roofline.
Also in the room are Jason Castriota and Lorenzo Ramaciotti of Pininfarina. The former is apprehensive because as exterior designer he penned that buttress, rather likes it, and doesn't want it scrapped. The latter is more relaxed. He's been in the business since 1972, before young Castriota was born, and as Pininfarina's design director has every Ferrari since the 456 GT under his belt. Eventually di Montezemolo asks the inescapable question: 'What is it, and does it work?' 
The two designers have prepared for this moment. Several months earlier the buttresses started out as little more than an element of artistic flair designed to alleviate some of the visual weight at the back of the car. Castriota had recognised that they also offered a disguise for the teardrop glasshouse he wanted to employ and in the process lent the coachwork of F141 – as the model was codenamed – an elegant fastback silhouette it wouldn't otherwise have.   
His boss at Pininfarina knew all this, but experience told Ramaciotti that without any true functionality the extra aluminium bodywork would be a nigh impossible sell to Ferrari. Promisingly, Castriota had a healthy suspicion that the buttresses might also yield substantial aerodynamic benefits at high speeds. He just needed proof.
Step forward Luca Caldirola, working first with a smaller representation of F141 in Ferrari's wind tunnel, and later, when the car had matured into the 599 GTB Fiorano replete with the Enzo's humdinger of a V12, using a life-size model in Pininfarina's tunnel. The Ferrari aerodynamicist, glad to see innovation driven by his profession, soon gave the designers what they had hoped for – evidence that compressing and accelerating the airflow between the buttresses and the cabin created a vortex over the bootlid that developed downforce without generating drag. 'Presumably Luca was impressed,' Castriota tells us a decade later. 
In hindsight it's clear Pininfarina's design signalled a change in the way Ferrari thought about front-engined cars. The buttresses in particular are emblematic of a pivot in philosophy where the designers and engineers began the difficult art of incorporating science into the styling. More importantly, from precisely the right angle they look sensational.