Goodyear Eagle F1 SuperSport - picked by Porsche
Goodyear has many close associations with premium global car brands, but being asked to develop a trackday tyre for Porsche's extreme 911 GT3 RS was a gratifying moment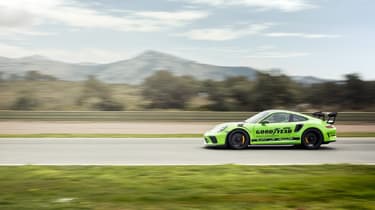 In association with Goodyear

Few other sports car makers have been so consistently dedicated to producing track-focused variants of their road cars as Porsche, in particular with its 911 line-up. The 2.7 RS from 1973 has its legend enshrined in the history books, while the more recent 911 GT2 RS and GT3 RS models seem destined to repeat that feat – developed by Porsche Motorsport, their natural home is the racetrack, even if they don't have numbers on their doors. And, of course, they're evo favourites.
Cars capable of such extreme performance on the circuit naturally require extraordinary tyres to fully exploit their power and handling, and when Porsche Motorsport wanted a trackday tyre package to be developed for the 911 GT2 RS and GT3 RS, it turned to Goodyear, a company with plenty of racing experience of its own.
> Win a set of Goodyear Eagle F1 SuperSport tyres
So how does the process work? Clearly Goodyear doesn't just pluck a tyre off the shelf, tweak it a little, then produce it in sizes to fit Porsche's dynamic duo. In the case of the Goodyear Eagle F1 SuperSport RS, the tyre – exclusively in 265/35 ZR20 (99Y) XL front and 325/30 ZR21 (108Y) XL rear sizes for the two RS 911s – was developed specifically to meet a set of specifications provided by Porsche. 
The engineers from Porsche Motorsport met with their Goodyear counterparts to explain in general terms their expectations of both the car and its trackday tyres, and then left behind a Lastenheft, or product requirements document, which contained very specific data. As you might expect, the overarching design goal was to produce the fastest lap time – via outright grip combined with predictable handling – but what the Goodyear engineering team also needed to ensure was that the lap times were repeatable lap after lap, as consistency is critical for any Ultra Ultra High Performance tyre in a track environment. And beyond the necessity for absolute speed, the Goodyear team had also to meet a couple of important EU regulations for noise emissions and wet handling performance – the Eagle F1 SuperSport RS is, it should be remembered, a road-legal tyre on which you can drive to and from the track.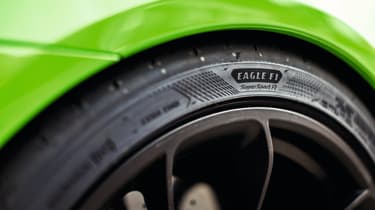 Armed with Porsche's desired specification, the Goodyear engineers then harnessed all their motorsport and road tyre experience to design and develop what would soon become the SuperSport RS. After the initial development stage Goodyear was able to present a prototype tyre to Porsche for assessment and testing: although the latest computer-generated test simulations do give impressively accurate predictions about a new design's performance, there's still nothing to beat seat-of-the-pants driving impressions, as any evo journalist will tell you.
Porsche's testing regime is one of the toughest in the business, and when it comes to assessing tyres such as the SuperSport RS on models like the GT3 RS and GT2 RS, that means countless laps at high speed, ensuring that the tyres are not only providing stunning lap times, but are capable of doing so all day long. By this stage, of course, Goodyear design engineers had already performed their own extensive – and intensive – track testing at the company's challenging Mireval proving ground near Montpellier in southern France, in preparation for Porsche to confirm those results at the famous Nardo facility in southern Italy.
Inevitably there were a few refinements to be made following feedback from Porsche, but with these completed, the Goodyear Eagle F1 SuperSport RS was fully homologated for use on the GT3 RS and GT2 RS, and gained the coveted 'N' marking on the sidewall that confirms this UUHP tyre is officially approved by Porsche.
Of course, the technology and expertise that has proven so effective on Porsche's finest has been applied throughout Goodyear's new range of Eagle F1 SuperSport UUHP tyres, all of which are designed for ultimate trackday performance. And while the SuperSport RS was developed specifically for the GT3 RS and GT2 RS, the SuperSport and SuperSport R are available in a wide range of popular sizes to suit a plethora of evo-centric heroes, from hot hatches to supercars.
So if you're on the hunt for the very best trackday tyres for your pride and joy, we recommend you follow Porsche's example and choose Goodyear…