Dunlop Sport Maxx RT 2 review
The Dunlop Sport Maxx RT 2 aims to provide the best of both worlds on both wet and dry roads, but how does it compare to its rivals?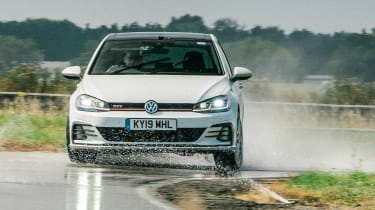 The Dunlop Sport Maxx RT 2 is a performance tyre aimed at optimising driver engagement while maintaining high levels of cornering grip on wet and dry roads. Dunlop highlights enhanced strength and stiffness, increased steering precision and shorter braking distances at high speeds as the key benefits of the Sport Maxx RT 2.
Technical features include asymmetric tread design to improve handling and aquaplaning resistance, enhancing grip on wet and dry surfaces, a flatter tread profile resulting in a large contact patch for improved stability, steering feedback and grip, and a Multi-Radius Tread which results in smoother transitions between straights and corners. High-stiffness tread blocks maintain rigidity in braking to ensure road contact is maximised, while a dual silica compound improves acceleration, reduces wear and enhances grip.
There's also a rim flange protection system (on selected sizes) to protect against wheel damage while parking.
Size tested: 235/35 ZR19
Test vehicle: VW Golf GTI
Price when tested: £133
Location: Hanover Test Track/MIRA Proving Ground
Tester's notes
We tested the Dunlop Sport Maxx RT 2 alongside the following rival products in the 2020 evo Performance Tyre Test held at Continental's Hanover test track and MIRA in the UK: 
Continental SportContact 6; Goodyear Eagle F1 SuperSport; Michelin Sport Pilot 4; Nokian Powerproof; Pirelli P Zero; Vredestein Ultrac Vorti.
In our wet handling tests the Dunlop only managed a fifth quickest lap time, but we boosted it to second in the subjective rankings thanks to its good bite and grip on the wet surface. Exploiting a rear end that was willing to move a little helped the decisive turn-in, and superb traction helped inspire confidence. On the wet circle the Dunlop was fourth quickest.
Braking performance was a little less inspiring, as the Sport Maxx took a car length longer to stop in the wet than the best performer. Even in the dry the Dunlop could only manage sixth, but it did score well for low rolling resistance.
The tyre bounced back by acing the straight and curved aquaplaning tests in first place, a decent margin ahead of rivals too. However, in the dry handling test and over the road route the Sport Maxx RT 2 slipped down the rankings again, in both the objective and subjective measures. On track it was relatively slow and felt imprecise, while on the road the steering lacked feedback and the ride was a bit hit and miss.
Test results: Dunlop Sport Maxx RT 2
The full test results for the Dunlop Sport Maxx RT 2 are below...
Test category

Result

% of best rival result

Ranking

Wet handling 

Lap time

Subjective score

47.2sec

58.5pts

97.4

94.4

5th

2nd

Wet circle lap time

12.54secs

98.8

4th

Wet braking distance

30.1m

86.4

7th

Dry braking

distance

35.6m

93.0

6th

Rolling resistance coefficient

0.840

98.9

2nd

Aquaplaning max speed

74.4kph

100

1st

Curved aquaplaning lateral acceleration

3.38m/s2

100

1st

Dry handling

Lap time

Subjective

53.10sec

56.0pts

98.2

88.9

7th

5th

Road route

22.5pts

90.0

4th

 
 
 
 

Overall

 

93.0

6th