Pirelli P Zero (PZ4) review
Pirelli's P Zero is another staple performance car tyre, but how does it stack up against key rivals?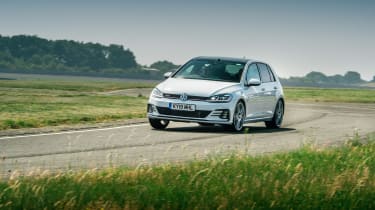 The P Zero has been a byword for high-performance tyres since Pirelli developed the first one as a Group B rally tyre in San Remo before launching the first road-going version on the Ferrari F40 in 1987. It's since been fitted to a huge variety of sports and supercars as original factory equipment, and it's hard to think of a performance tyre brand that enjoys more global recognition.
Pirelli maintains the P Zero continues to be developed by combining knowledge gained from motorsport and input from the world's top car makers, and the P Zero is available in a wide range of sizes, some of which include Run Flat capability, the Pirelli Noise Cancelling System, and the Seal Inside system which prevents air loss following a puncture. As befits a sporting icon, the P Zero is designed for maximum wet and dry performance, with less focus on comfort and economy.
> Click here for our full 2021 performance tyre test
Price when tested: £124
Size tested: 235/35 ZR19
Test vehicle: VW Golf GTI
Available size range: 225/45 ZR16 – 325/35 ZR23
Location: Hanover Test Track/MIRA Proving Ground
Tester's notes
We tested the Pirelli P Zero alongside the following rival products in the 2020 evo Performance Tyre Test held at Continental's Hanover test track and MIRA in the UK: 
Continental SportContact 6; Dunlop Sport Maxx RT 2; Goodyear Eagle F1 SuperSport; Michelin Sport Pilot 4; Nokian Powerproof; Vredestein Ultrac Vorti.
The Pirelli was the star of our wet handling test, being almost a second quicker than rivals and earning our best subjective score by some margin. In fact we said it was in a different league, with terrific grip and balance. High front-end grip could be relied on without the risk of the rear feeling loose, and the tyres felt fast and secure. In the wet circle tests the P Zero also performed strongly, coming in a close third behind its Michelin and Goodyear rivals.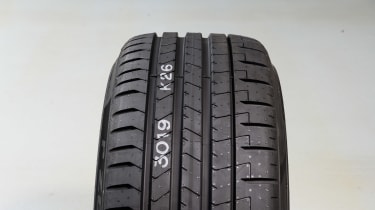 Rival test tyres also pushed the Pirelli down the rankings when it came to braking, with the P Zero being edged to fourth and third places in wet and dry tests respectively. For any driver interested in economy, the P Zero's sixth place in the rolling resistance tests won't impress.
Partnership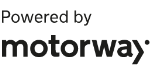 Need to sell your car?
Find your best offer from over 5,000+ dealers. It's that easy.
The P Zero ranked highly in our aquaplaning tests, but when it came to dry handling a great lap time was undermined by less impressive subjective scores – the tyre seemed to lose its edge by the second lap, with responses softening noticeably.
Test results: Pirelli P Zero (PZ4)
The full test results for the Pirelli P Zero are below...
Test category

Result

% of best rival result

Ranking

Wet handling 

Lap time

Subjective score

46.0sec

62.0pts

100

100

1st

1st

Wet circle lap time

12.42sec

99.7

3rd

Wet braking distance

28.7m

90.6

4th

Dry braking

distance

34.1m

98.5

3rd

Rolling resistance coefficient

1.017

81.7

7th

Aquaplaning max speed

72.2kph

97.0

2nd

Curved aquaplaning lateral acceleration

3.08m/s2

91.1

2nd

Dry handling

Lap time

Subjective

52.15sec

57pts

100

90.0

1st

4th

Road route

22.5pts

90.0

5th

 
 
 
 

Overall

 

95.0

3rd