Mercedes-Benz formalises 20 percent share buyout of Aston Martin
Aston Martin will gain access to powertrains, electric platforms and electronic architecture as part of the deal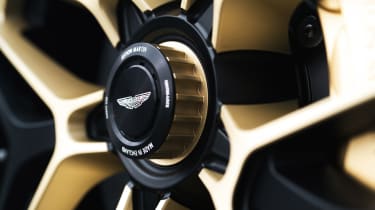 Mercedes-Benz and Aston Martin have now officially formalised a new agreement that will see Mercedes raise its stake in Aston to 20 percent in exchange for access to its incumbent electrified powertrains, electronic architecture and its bespoke electric platform. The deal has been in development since the high-profile placement of Canadian businessman Lawrence Stroll at the helm of the financially-stricken Aston Martin earlier this year, now coming to fruition as a crucial lifeline. 
The deal stipulates that over the course of the next three years, Aston Martin will gain access to both the new hardware and software in two packages in exchange for a handover of stock, building Mercedes-Benz's share to a maximum of 20 percent and the placement of a non-executive chairman on Aston's board by 2023. 
By tapping into Mercedes' development of these new technologies, it will allow Aston Martin the ability to focus on expanding the model range, confirming that among updating its current front-engined GT and Sports ranges, it will also expand the DBX-line with new derivatives and launch a new mid-engined range previewed by Aston's hail mary at the 2019 Geneva Motor Show. The move into manufacturing mid-engined supercar will also be reinforced by the rebrand of Racing Point F1 next year to a factory Aston Martin Racing F1 team. 
These new lines are planned to be on stream by 2024/25, where the company is forecasting production of 10,000 units, with a £2billion revenue target by the same year. Beyond 2024/25, Aston Martin will then be closer to applying the electric vehicle hardware that Mercedes-Benz will also hand over as part of the deal. The first production models on Merc's new dedicated EV technology, including high performance AMG models, will be on stream from next year, which will be the next step in an expansion of models beyond that 2024.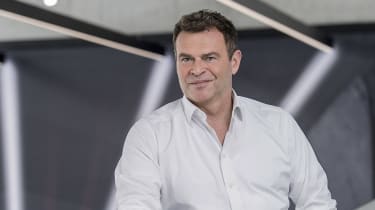 Merc's new plug-in hybrid powertrains will also be used in current Aston Martin models like the DBX to appeal to more eco-conscious customers, as no combustion-engined platforms have been specified as part of the deal. 
Amongst the new financial conditions, Lawrence Stroll's takeover has also seen the significant reduction in dealer stock to balance the oversupply that was killing vehicle margins within the network. After a COVID-enforced lockdown, Aston only re-opened its Gaydon manufacturing facility in late August building-to-order.
While the move is unprecedented, signals of Mercedes-Benz taking a larger share of Aston Martin were beginning to show through with the appointment of Tobias Moers as CEO, and the fashion in which he departed AMG after the announcement of his appointment at the top of Aston Martin. 
With the threats that all low-volume sports and luxury car manufacturers are currently going through with the expensive and complicated job of electrifying, most have large-scale financial backing from conglomerates partly shielding them from the worst financial hardships. Aston Martin hasn't had that luxury since its sale by Ford back in the early 2000s, so its extended relationship with Mercedes has certainly come at the right time.