Aston Martin V12 Vantage S Roadster: Paris motor show 2014
Aston Martin gives the public its first glimpse of the brand's fastest-ever convertible. Details here
Aston Martin's V12 engine delivers one of the more spine-tingling notes in the new car market, and there's no better way to hear it than in the new V12 Vantage S Roadster.
Officially launched in Paris, the V12 Vantage S Roadster is Aston Martin's fastest-ever convertible. In its current guise, the AM28 6.0-litre V12 develops 565bhp and 457lb ft of torque. Sending all that through a Graziano seven-speed automated manual transmission, 62mph flashes by in 4.1 seconds (3.9 to 60mph) and the Roadster doesn't stop accelerating until 201mph clicks up on the speedometer.
Shift speeds, damping levels, power assistance for the steering and throttle response all vary according to the Normal, Sport and Track driving modes.
Styling echoes that of the hard-topped V12 Vantage S, but for the Paris show the Roadster also features a selection of Q by Aston Martin accoutrements.
Among the unique touches are the Diavolo Red paintwork, a full red-tinted carbonfibre interior centre stack, saddle leather detailing and Q by Aston Martin badges.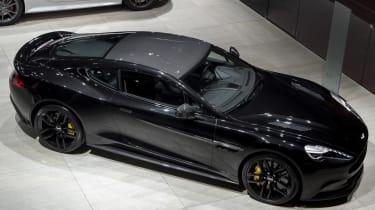 Aston Martin is also presenting its Vanquish Carbon Black and Carbon White editions in Paris. Coloured as you'd expect, the company says they're designed to accentuate the car's carbonfibre elements - matched in the Carbon Black, and contrasted in the Carbon White.
Providing further contrast on Aston Martin's stand is a V8 Vantage N430 and a Rapide S, each featuring their own tweaks at the hands of Q by Aston Martin.