With less than a week to go before the 2010 Le Mans 24 hours, we catch up with two-times winner Allan McNish, who's hoping to make it a hat-trick at La Sarthe in an Audi R15 TDI Plus. In part two he tells us about how Le Mans today compares to Le Mans ten years ago, and looks at his future beyond the race... You first won Le Mans in 1998. How does the race differ now to then? Reliability is now key. 2000 was the first year it was becoming a given and the car would be driven flat out all the time. Gearboxes used to be the Achilles heel – you'd need to change gear clusters after eight hours and discs through the course of the race. Now we drive at full pelt and don't think about the gearbox, it lasts the race. Detail is very important, too. Races aren't won by laps, they're won by seconds, and the race requires every area of the team to think about its performance, never mind the car. Racing is no longer about conservation of the car, it's driving it fast. We're now in a sprint race over 24 hours. Look at where the drivers have came from in the front-running cars – it's all high-profile single seaters such as Formula 1. That tells you what level the teams are at now. If you put Audi or Peugeot into F1, they wouldn't be back-end Charlies, that's for sure. Le Mans serves its purpose as a good test bed for manufacturers, too, especially with new fuel sources – diesel, hybrid, it's a pretty attractive platform going forward. In 1998 I'd have never believed I'd be driving a diesel. How long will you be in Le Mans for? Is there a retirement plan? Me and Dindo [Capello, McNish's teammate] have made an agreement that when we're all retired and finished we'll hire a motorhome and come across and enjoy Le Mans from the other side of the fence. We'll have a beer and a hot dog and watch everyone else sweat it out. I've only ever seen a race through focus and pressure – I've smelt the blooming hamburgers coming through The Esses and seen the ferris wheel and rollercoaster, but never been a part of it. Is there any other race you'd like to compete in? Well, I had a blast around the Nürburgring in an Audi R8 LMS the week before the 24-hour race there, and it was a lot of fun. The N24 is building up in its prestige – its only the last year or two where the Porsche v Audi battle has lifted the profile and made it more than just a national event. But that's a track you need to know – you need to do a lot of work on it beforehand else you'll find yourself in a lot of trouble. It's only a few weeks before Le Mans so we aren't going to compete in both, certainly not us factory drivers. You never know in the future, though. It's not so much a race to win, but it's an event. You get company bosses turning up, such as Toyota's Toyoda in a Lexus, and you wouldn't get that anywhere else. It's quite cool but it's quite mad! The whole circuit and philosophy is insane in today's world. Maybe next year I'll come and do evo's visors and make sure your drink bottles are alright!
Click here to read part one where Allan talks us through he and Audi's preparations for the 2010 Le Mans race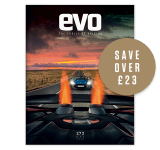 Subscribe to evo magazine
Subscribe today to have every issue of evo delivered straight to you. You'll SAVE 39% on the shop price, and get evo for its original cover price for a whole year!
Read the rest of our Le Mans 24-hour race news here
Join evo's Twitter, Facebook and YouTube pages