Audi R18 e-tron quattro on track | INSIDE evo
Watch Richard Meaden drive the 2014 Le Mans winning Audi R18 e-tron quattro on track at Misano in Italy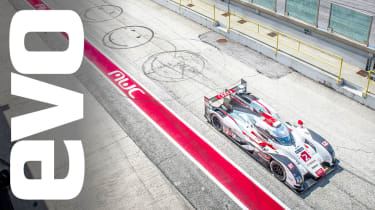 You probably won't be surprised to hear that before Audi could say 'want to drive our R18 e-tron qua...' Richard Meaden had already tied the laces of his race boots.
Flown over to Misano in Italy and faced with the bug and oil splattered 24 Hours of Le Mans race winner, Meaden is shoehorned into the carbon safety-celled LMP1 R18 e-tron quattro Audi, belts fastened and then left to sample over 800bhp of hybrid-diesel racing car. He has just four laps – an out lap, two flying, and then an in lap – to take what he can from the experience. But what an experience. 
The number 2 R18 e-tron quattro took part in one of the most exciting Le Mans races in its 82-year history. Rather than dominating like some of its predecessors, its drivers - André Lotterer, Marcel Fässler and Benoît Tréluyer – had to fight hard for the victory. And with similarly advanced competition coming from Porsche and Toyota (with whom our own Anthony Davidson won the 2014 WEC title), the race was never going to be easy. That's what makes this dirty race winner so special.
Having won thirteen 24 Hours of Le Mans races from the last fifteen years, Audi's latest R18 racer is unsurprisingly one of the most advanced four-wheeled machines on the planet. Watch the video above to join Meaden wrestle with big slick tyres and massive levels of downforce on an empty international race circuit, all from behind the wheel of a true legend of modern motorsport.