It's taken a while, but it finally feels as though electric road cars have not only been accepted, but for many are becoming increasingly desirable. The same cannot be said of electric racing cars. If there's one topic guaranteed to divide otherwise solidly aligned members of the racing community it's Formula E – the only motorsport category where more noise is generated by fans and naysayers arguing than the racing itself.
As a lifelong motorsport fan, and a racer for most of my adult life, it's perhaps inevitable that I've always felt utterly conflicted by Formula E. Largely because the cars are slow and soulless and the circuits are about as charismatic as the Woking one-way system. Still, I know that racing's racing whatever the means of propulsion, and that if you stick a bunch of motivated, talented and ultra-competitive drivers in cars that are clearly tricky to push to their limit you're going to witness some tight racing and great battles.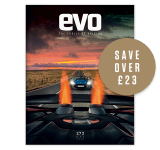 Subscribe to evo magazine
Subscribe today to have every issue of evo delivered straight to you. You'll SAVE 39% on the shop price, and get evo for its original cover price for a whole year!
> evo's favourite hybrid performance cars
FE has been with us for just four and a half seasons, but in that time it has worked hard to reject convention, attract a raft of big manufacturers and evolve the cars as quickly as it's practical to. The recent switch from first generation cars to second hasn't been a total reinvention, but the differences between the original and current cars are numerous and extensive. The fresh look is very striking, but too cartoonish to be entirely functional. Despite FE resolutely not being an aero formula there's a colossal diffuser, which underscores the impression of style over substance. Drag has been reduced thanks to enclosed wheels, but the original car's aero rims have been banned, which is a shame as they looked great.
Formula E car specs
The tub is a design by Dallara, but built by Spark Racing Technology. Teams were already allowed to develop their own powertrains – a big incentive for the major players to get involved – but they are now also free to develop aspects of the rear suspension, including dampers and suspension packaging. Active brake-by-wire systems are new for the second-gen cars, but only allowed on the front axle. Teams can  develop their own system or use an off-the-shelf one.
Power management software has always been the area of FE's otherwise tightly controlled technical regulations with the most scope for teams to explore. So although testing is restricted to seven days per season, the brains of the powertrain inverter can be evolved and evaluated during the season. The second-gen car's greatest single improvement over the old car is the new battery pack. Produced by McLaren Applied Technologies, it has 54kWh of useable energy, almost double that of the original FE car. This means each 45-minute E-Prix can now be completed without the need to swap cars – a big step in terms of credibility and a significant strategic shake-up for the teams and drivers. The trade-off is a greater emphasis on power management throughout the race.
Power is up compared to the first-gen car's minimum 190kW (255bhp), with 200kW (268bhp) now available in race mode and 250kW (335bhp) for qualifying. That extra 50kW (67bhp) is also available via the – in my admittedly Grinch-like opinion – utterly cringeworthy 'FanBoost' in-race voting process, and a new limited-use 'Attack Mode'. Culturally it's like a fusion of real racing and gaming.
Formula E's past and present on track
It's unusual, in fact almost unheard of, for a manufacturer to allow a 'civilian' anywhere near a new and yet-to-be-raced single-seater race car. Yet not only has Audi invited us to try the one and only example of its latest 'Season 5' car before the season-opening Riyadh E-Prix, but it has also brought along a 'Season 4' first-gen car so we can compare old with new. The test venue is the Circuit Mallorca. No, I haven't heard of it either, but its tight and twisty nature mimics the street circuits that are part of FE's USP, and this makes it a great place to get a representative taste of a Formula E car.
We start with the first-gen car. I'm intrigued and nervous because I've watched enough E-Prix to know that despite the gearless 'twist-and-go'-style ease of operation it will be tricky to drive. Still, I didn't think it would be quite such a challenge. Not due to its performance, as it's really not that fast. Where it's a real challenge is in the braking areas, for thanks to the regen effect and limited grip from treaded control tyres it doesn't seem to do the same thing twice. Such is the shift in brake balance from lap to lap, and sometimes from corner to corner, you're always reacting, correcting and measuring your braking inputs. When the rear wheels lock up under braking going into the chicane at the end of the longest straight, and then again into the tight chicane directly opposite the point from where the Audi crew are watching, it's time to cool it a little, but I'd be lying if I said I wasn't enjoying the fight. Time to try the new car.
First impressions are of a sharper, more responsive machine. Visibility is severely impeded by the enclosed front wheels, so it's harder to place the car close to the apexes. Like the old car there are no gears to shift, so it's a case of pointing and squirting. The new motor and battery cells deliver more grunt and a more piercing whine, together with the same sense of immense torque from rest followed by acceleration plateauing sooner than you expect, so after that initial slug of acceleration the impression of speed is as you'd expect of a 900kg car propelled by 268bhp or so. Many of you will have driven far quicker kit.
Despite appearances there's really only mechanical grip to play with. That's where I'm happiest, but the new iteration of Michelin's treaded all-weather race rubber doesn't give much feel. The tyres are softer, but they have to last a race distance and never feel like they are switched on, even compared to a Michelin Pilot Cup 2 road tyre. It's still easy to lock a wheel, but it seems the main issue is getting even temperatures into front and rear tyres, and sometimes across each axle. There's no doubt FE cars require a driver to have feel and a preparedness to react from corner to corner.
Tellingly, despite not driving as hard as I did in the old car for fear of binning Audi's only second-gen car, my best lap is nearly four-tenths quicker than in the first-gen car. That speaks of a car that's faster and easier to drive, but charts a familiar trajectory in which technology will continue to chip away at the driver's input and influence.
Is Formula E the future?
Fundamentally, my issue with Formula E is that there's nothing genuinely jaw-slackening about it. The cars are tricky to drive, the narrow, concrete-lined street circuits are bumpy and unforgiving and the race-long energy management takes fuel-light roulette to a whole new level. But is it genuinely spectacular? No. Are the cars quick? No. Do I think the drivers are heroes? No. Should the answer to these questions be 'yes'? Of course, at least I think they should.
Formula E is a future, but I'm not sure it's the future. It works as an EV approximation of Formula 1 and it currently fits with the electrification agenda for all the big car brands, but longer term I don't believe cost-capping and a largely standardised spec will appeal to manufacturers  and certainly not to those motorsport engineers used to the intensity of F1 or WEC. Especially when we know the real technology race is happening outside of motor racing, in the engineering labs where billions are being invested in battery, motor and inverter technology.
To those who don't appreciate motor racing of any kind, spending fortunes and risking your neck to see who can get from A-to-A faster than everyone else has always been a somewhat pointless and self-indulgent exercise. In these risk-averse, budget-constrained, environmentally woke, virtual-is-the-new-reality days, surely its appeal is even trickier to explain and even harder to justify? Switching from IC to EV might make racing seem more in-tune, but not only does it fail to change those fundamental truths, it also struggles to excite those of us who cling to the belief that motor racing should be the embodiment of raw speed and sensory overload.
Perhaps its time to face facts. We live in a time when major car manufacturers and technology giants are working on autonomous technology that engineers us drivers out of the personal transportation loop. Those same manufacturers are also embracing the virtual world of e-sports as part of their wider motorsport programmes. Bluntly, the world needs electric roads cars but it doesn't need electric racing cars.
All of which leads me to feel less concerned about pondering the merits of Formula E and more inclined to pose the least palatable question of all: namely whether top-flight, big-budget, factory-supported motorsport has any kind of place in our ethically sound and environmentally responsible futures.