Audi R8 e-tron shelved
Development of Audi's fully-electric supercar has been put on ice, due to concerns over the limited range current battery tech offers.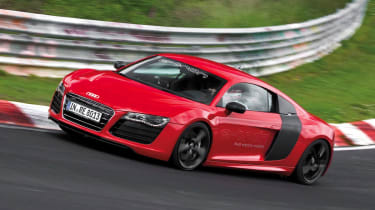 Just days after the small electric A2 was cancelled, an Audi spokesman has confirmed that plans to launch the fully-electric R8 e-tron have also been put on permanent hold.
Audi stated that the current challenge of short range and long charge times are still too great to overcome – something Audi thinks customers are unwilling to accept.
In its current form, the R8 e-tron's power is generated from a pair of electric motors and a state-of-the-art lithium-ion battery pack, giving the e-tron 280kw (about 375bhp) and 604lb ft.
Performance is certainly not a concern for the e-tron however. 0-62mph comes up in 4.2 seconds and the car will hit a limited top speed of 124mph (about 155mph without it). A full charge takes around 12-hours and allows a range of up to 134 miles.
Last year, the e-tron completed a timed lap of the Nurburgring in 8:09 seconds, just five seconds slower than the V8 petrol.
Source: Auto Express