evo Verdict
Like its hatchback counterpart, The S3 Saloon offers aggressive performance, great build quality and cutting edge technology all wrapped up in a user friendly, compact package. If you want a fast saloon that looks good and won't break the bank then look no further. But be warned, the S3 still falls short of delivering a truly entertaining drive.
evo Tip
Both the S3 hatchback and S3 Sportback offer the same performance for less money, so unless you are dead set on a saloon - both are worth a look. The Volkswagen Golf R, which uses the same drivetrain, offers more fun on a twisty road and is a better car overall.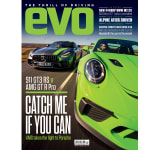 Subscribe to evo magazine
Experience the thrill of driving with evo magazine. Subscribe now and get your first 5 issues for £5 or buy the latest issue in all good newsagents!
>Read our Volkswagen Golf R review here
evo Comment
'The new S3 Saloon rights many previous Audi wrongs, with crisp steering and a supple ride. It's not perfect though, and despite its similarity under the skin to the Volkswagen Golf R, it somehow falls short of delivering the engaging driving characteristics that make that car great.' Dan Prosser, Road Test Editor
Performance and 0-60 time > As strong as you'd expect for a turbocharged, all-wheel drive car - particularly with the optional S tronic dual-clutch gearbox. Read about the Audi S3's performance here
Engine and gearbox > 296bhp from a two-litre, turbocharged four cylinder. Haldex all-wheel drive normally sends power forwards, but can divert it to the rear. Read about the Audi S3's engine and gearbox here
Ride and handling > Not much steering feel, but it's direct, the ride is better than many fast Audis of the past, and traction is strong. Read about the Audi S3's ride and handling here
MPG and running costs > Claimed economy not too wide of the mark on a cruise, but use that power and the figures will quickly tumble. Read about the Audi S3's mpg and running costs here
Prices, specs and rivals > The VW Golf R doesn't have a boot but similar dynamic makeup somehow delivers greater thrills for similar money. Read about the Audi S3's prices, specs and rivals here
Interior and tech > Tasteful cabin architecture, well-built and thoroughly logical. Plenty of infotainment features to keep you occupied, too. Read about the Audi S3's interior and tech here
Design > Possibly the most attractive A3 bodystyle, enhanced further with S3 details. Still appeals more to the head than the heart. Read about the Audi S3's design here