Bentley Continental GT3: The most unlikely racing car? - Bentley Continental GT3 - page 2
An opportunity to watch the GT3-spec Conti GT at Silverstone shows just what's possible with the right engineering…
'Everyone loves the sound it makes,' says Bentley Team M-Sport's technical manager, Will Hunt, who's been flitting all morning between the different drivers and engineers assigned to the team's brace of cars. 'I think that's partly because you get a phasing effect. We run separate exhaust manifolds that exit each side of the car with no link pipe between the two, so you hear one bank of cylinders before the other.' The exquisite consequence of this, particularly on narrower circuits with Armco, such as Macau, is a full-on Gatling-gun effect that none of other cars, even with their bottomless, factory-supported engine-development budgets, can match.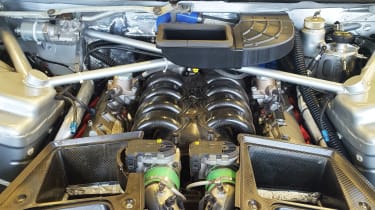 A six-speed transaxle with pneumatic shifts (initiated using the Mulsanne's chrome paddleshifters, for a touch of glamour in an otherwise brutally spartan cockpit) takes power to the rear wheels via a carbonfibre propshaft spinning at crank-speed and there's double-wishbone suspension with four-way-adjustable Öhlins dampers. The OZ Racing wheels, meanwhile, wear 310-section tyres, which is about the same as on a McLaren P1. That said, the McLaren's Pirellis won't leave a sticky black residue on your fingertips like the racer's slicks do.
All in all, it's quite a scene-change for a machine geared more to deliver champagne from an armrest than the top step of a podium, and we haven't even got onto weight saving or monster GT3 aero yet.