Bentley Continental GT3: The most unlikely racing car? - Bentley Continental GT3 - page 3
An opportunity to watch the GT3-spec Conti GT at Silverstone shows just what's possible with the right engineering…
we've
The strict diet and migration of the engine and gearbox mean that the Conti GT3 has almost perfect weight distribution, too. This has allowed the team's engineers to use what might be seen as the car's chief drawback – its size – to their gain. As Hunt explains, the more bodywork you have, the larger the aerodynamic canvas on which you can work.
'As the race car is so big compared to almost everything else on the grid, we can take advantage of the natural shape of the road car, mainly in terms of the footprint, and the large front overhang is crucial to getting the front aero to work with the splitter. We went through a lot of aero testing to achieve that.' The same testing – at a wind tunnel in Stuttgart – also allowed the team to perfect a system whereby air flowing over the splitter and into the Conti's gaping maw is subsequently used to take hot air away from the low-down turbos. In aero terms, it's two for the price of one.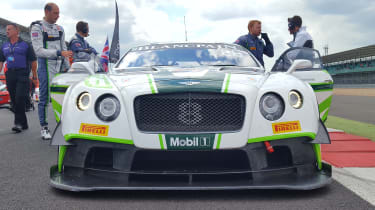 The sprawling floorpan isn't completely flat, but in tandem with a wing big enough to fit the name of Bentley's personal commissioning department – Mulliner – on its endplates, a similarly mammoth rear diffuser, and aerodynamic lips on the bonnet that help create an area of low pressure over the front of the car, downforce in the region of 1000kg at 160mph is achievable. Moreover, the GT3 car retains an unusual degree of the road car's smooth form, so contrary to what intuition would suggest, it actually generates less drag than most of the other cars. All of a sudden, the crazy notion of a fire-breathing Conti GT3 car starts to make quite a bit of sense…
Spanish works driver Andy Soucek was all but confirmed for the Williams F1 reserve-driver role in 2010 until a Finn named Valteri cropped up at the last minute with more attractive backing. I put it to him that with all the changes needed to bring the Conti into line for GT3 racing, the essence of the road car's dynamic personality has been lost, even if the appearance and imperious demeanour have been preserved to superb effect. 'What does it matter?' you might be thinking, but the link between road and track is integral to the magnetism of GT3, and if the racing car is unrecognisable from the road car in either looks or character, then some of the magic is lost.