Whatever you think of Bentley's decision to resurrect the slightly quaint 'Speed' moniker for its new flagship Continental GT one thing's for sure: the Crewe concern won't be facing any litigation under the Trade Descriptions Act, for speed is something it has in abundance.
Hitting 60mph from rest in just 4.3sec and 100mph in just over 10sec is remarkable enough for this 2350kg all-wheel-drive leviathan, yet it's the new model's top speed that Bentley is trumpeting most loudly. As it's a well-known fact that both the original Conti GT and Flying Spur saloon have both topped 200mph in magazine features – despite 'official' vmax claims of 198mph – it seems strange that the GT Speed is the first model in Bentley's history that officially tops the magic double-ton.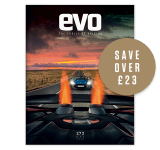 Subscribe to evo magazine
Subscribe today to have every issue of evo delivered straight to you. You'll SAVE 39% on the shop price, and get evo for its original cover price for a whole year!
Bentley's head of engineering, Ulrich Eichorn, is quick to kill the not entirely unreasonable layman's notion that this performance boost was achieved simply by turning the wick up a little on the twin-turbocharged W12 motor. It's hardly an over-stressed engine after all. But no, instead they took the 'diligent, in-depth approach', improving the cooling efficiency and gas flow through the engine, lightening key components such as the conrods, reducing exhaust back pressure with new catalysts, reducing weight with a single-chain camshaft drive and sharpening up the engine management system.
Take a look at the power and torque charts and you'll see that not one scrap of driveability has been sacrificed: the new lines mirror those of the old GT, yet both take a sizeable hike north. When Eichorn suggests Bentley is 'the last muscle-car builder' it's hard to argue.
The result is a compelling and utterly addictive car. The GT Speed's mighty W12 emits a fabulously purposeful yet understated rumble when roused, and throws you down the road in epic fashion.
'Relentless' doesn't do the way this car accelerates justice: indeed from 187mph (300km/h) it gains speed twice as fast as the standard GT, itself hardly a slug. Unsurprisingly its ability to crush even mountainous inclines into submission, or simply pin you to the seat is awe-inspiring. Yet it's also happy to potter quietly through towns and villages, slurring through the smooth six-speed ZF automatic transmission in relaxed, effortless style.
Considering the almighty performance available, the way in which the GT Speed seduces you is surprisingly subtle. So adept is it at moulding to your mood, it ups the ante and cools the pace so imperceptibly you'd swear it reads your mind. After a day storming the deserted roads of southern Spain it leaves you wondering how you ever managed without 600bhp and 553lb ft.
The chassis has been enhanced to improve response, feel and agility. The steering has lower friction hydraulics and revised settings for the speed-sensitive Servotronic system. Spring rates are increased by 22 per cent, while the air suspension's ride height has been lowered by 10mm at the front, 15mm at the rear. The front anti-roll bar has actually been reduced in thickness to dial-out a little understeer, and the adoption of cast alloy suspension uprights and the solid-mounted cast alloy front subframe (first seen in the Conti GTC) has brought increased rigidity to the structure and further precision and immediacy to the steering.
When attempting to hustle the GT Speed, it pays to remember that despite a 35kg weight saving over the original GT, it still weighs considerably more than two tons. It's also a good idea to have a peek under the bonnet, for you'll see how that W12 is crammed into the engine bay, and how high and far forward it sits. Front-mid-engined it isn't. And yet the Speed GT is a keen and capable car on a fast, sinuous road. It contains its bulk impressively, turns with enthusiasm and clings on ably, thanks in no small part to the bespoke 275/35 Pirelli PZero Sport tyres, which wrap new 9.5in x 20in one-piece forged alloy rims. The GT Speed also gets a 'Dynamic Mode' to the ESP system, which allows a little more slack, both in terms of wheelspin and lateral slip, so you can really push it without triggering any electronic intervention.
Peek between the spokes of those handsome new wheels and, if it has the optional carbon ceramic discs, you'll see the largest brakes fitted to any production car: a whopping 420mm at the front (356mm at the rear), gripped by suitably enormous eight-piston callipers. They add an equally sizeable £10,000 to the price of the GT Speed's £137,500 list price, but are well worth the additional outlay, for they haul the hefty Conti down from three-figure speeds with utter disdain, and save a further 20kg.
Though it's true to say that the Speed GT is too heavy to be a genuine driver's car in the purist sporting sense, it is a much more serious and entertaining proposition than the standard Conti GT. A magnificently potent and versatile symbol of performance and luxury, the GT Speed is the definition of a modern Bentley.
Specifications
| | |
| --- | --- |
| Engine | W12, 5998cc, 48v, twin-turbo |
| Max power | 600bhp @ 6000rpm |
| Max torque | 553lb ft @ 1750rpm |
| 0-60 | 4.3sec (claimed) |
| Top speed | 202mph (claimed) |
| On sale | Now |