BMW 8-series Gran Coupe teased before its reveal next month
BMW's largest four-door coupe to take on the Porsche Panamera and AMG GT 4-Door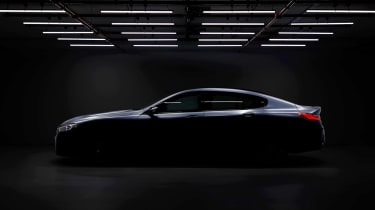 The BMW 8-series has been teased in its third body style – this time a longer four-door coupe called the Gran Sport. It follows the 4-, and previous 6-series in offering a more practical body style, which will rival the Porsche Panamera and Mercedes-AMG GT 4-Door.
We've already had a good insight into what we can expect, with the M8 Gran Coupe Concept's reveal at the 2018 Geneva motor show, but this is our first look at the model we'll see on the road later this year.
> Click here for our review of the BMW M850i
Few details have been officially released so far, but we'd bet this model will share its six-cylinder diesel and twin-turbocharged 4.4-litre V8 powertrains, the latter powering an M850i M Performance model.
Like the Coupe and Cabriolet, we also expect a future M8 to follow, with underpinnings borrowed from the BMW M5 and power exceeding 600bhp in Competition trim, giving the Porsche Panamera Turbo and AMG GT63 S 4-Door some Bavarian competition.
The 8-series' opulent interior should also remain, with the key difference being the improved accommodation thanks to the extra set of doors and a longer wheelbase. It's not clear at this point whether the 8-series Gran Coupe will ape the Panamera and GT 4-Door in featuring a rear hatch, or standard boot opening, but we'd suspect a larger hatchback that benefits overall practicality would be the more likely option.
We'll find out for sure in June this year, when the 8-series Gran Coupe is revealed in full. Pricing is expected to be similar to that of the current model, and using the previous 6-series Gran Coupe as a reference, might actually outsell the sleeker two-door coupe.