The BMW M2 might be a five-star car, but it isn't for everyone. At £50,000, it also opens up the doors to a wide range of used alternatives that deliver similarly engaging experiences.
While not exhaustive, below is a list of alternatives that can easily be had for sub-M2 prices, yet remain proper driver's cars. Do you have any thoughts on other alternatives? Let us know in the comments below.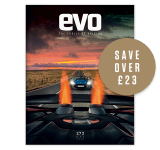 Subscribe to evo magazine
Subscribe today to have every issue of evo delivered straight to you. You'll SAVE 39% on the shop price, and get evo for its original cover price for a whole year!
BMW 1M Coupe
When looking at BMW M2 alternatives, the 1M almost immediately springs to mind. Similar in size and spirit, it's like an M2 but with a harder, more aggressive edge.
It remains a five star evo car and editor Nick Trott has extremely fond memories of running one as a long termer in evo's Fast Fleet.
The 1M might have vexed purists slightly with its turbocharging, but drive one and you'll struggle to take issue with the engine. Mated to the 1M's slick six-speed manual gearbox, it's a real belter of a powertrain. The 335bhp twin-turbo 3-litre motor is also a near-identical match to the M2 in terms of performance.
0-60mph takes 4.8 seconds, while the 1495kg 1M is limited to 155mph, although evo has seen an indicated 170mph on the derestricted autobahn.
At the moment, the 1M is turning into a bit of a collectors item. While prices appear to have stabilised, don't expect them to drop either, making the car a sound investment.
> Search for a BMW 1M Coupe on Classic and Performance Car
Aston Martin V8 Vantage
Such are the joys of depreciation that it's entirely possible to own something fairly modern, but with an Aston Martin badge, for under £50k.
The V8 Vantage remains one of the real sweet spots in Aston Martin's long running history. It's fairly small, yet has more than enough power and styling that means it hasn't aged too badly.
>Read our Aston Martin V8 Vantage review
The car uses a Jaguar-derived 4.3-litre V8 which was available either with a six-speed manual or as a semi-automatic 'Sportshift'. The manual is more engaging, and the responses of the semi-auto does belie the car's age.
Power ranges from 380bhp found in the early 4.3-litre V8 cars, rising to as much as 420bhp in the later 4.7-litre cars. 
>Search for a V8 Vantage on Classic and Performance Car
M2 money should get you a low mileage 2009-onwards V8 Vantage. Look out for cars in need of clutch replacement, as it can be pricey. Otherwise, the powertrain is fairly mechanically solid.
BMW M4
A used M4 is a perfectly viable alternative to a brand new M2. In fact, come close to the £50,000 mark and you'll be able to get a virtually new car. For the price of an M2 you could purchase a '15 plate M4 with just 5000 miles on the clock.
Admittedly, there are plenty of people out there who will be after an M2 and nothing else, but for those who want more power, a touch more practicality and the step up to the 3-series' interior, an M4 might be the answer.
While the engine in the M2 might seem similar to the M4's on paper, in reality they are fairly different. Both might be 3-litre straight sixes, but the M2's engine shares more with the M235i, whereas the M4's S55 is much more unique.
For starters, it's a twin-turbo, whereas the M2 has a single twin-scroll turbo. If you want to learn more about powertrain differences, then why not watch our Unwrapped video on the car here.
>Search for a BMW M4 on classic and performance car
Performance might seem similar. For example, the 0-60mph sprint in the M4 takes 4.1 seconds with a DCT box, the M2 does it in 4.3, but it's the way both cars behave that differentiate them. The M2 is more driver-focused and similar to the old E46 M3 in spirit, while the M4 is a little softer and less hard-edged.
Either way, the M4 is an amazing piece of equipment for under £50,000 and given its age, many will still be under warranty.
Audi RS3
The Audi RS3 might not be evo's favourite hot hatch, but there's no denying its outright performance. You only need to take a look at our latest series of drag battles to see the amazing 0-60mph time we recorded with one.
With four-wheel-drive, it's a very different beast to the M2. The RS3's engine is a particular highlight - a 362bhp 2.5-litre 5-cylinder - it brings plenty of character to the car, particularly with its optional sports exhaust.
Some might prefer the RS3's interior to the M2's. It can feel a touch more premium, with an Alcantara-wrapped wheel and quality switchgear.
Like the M4, the RS4 is a relatively new car, so expect one under warranty with plenty of options for below £50,000.
Jaguar F-type
The V6 remains the pick of the bunch from the F-type range, despite the V8's undeniable performance hike over and above it. Lighter and more nimble, it's the car of choice in the F-Type convertible range. Coupe buyers will want to aim for the V8 R, although that's in a different price bracket altogether.
With the F-type, you're getting a combination of good looks and character that little else in this list can boast. It's definitely a different proposition compared to the M2, particularly if practicality is on your list of must-haves.
>Read our Jaguar F-Type review
That said, it's difficult to ignore the allure of a proper two-seat rear-wheel drive sports car and the F-type is definitely a smart choice, particularly given the car's relatively recent release.
Used examples range from low mileage V6 offerings for mid £30,000s, to V6 S variants for just under 50k. It's the latter which is worth investing in, with its power hike and LSD making a difference to the driving experience.
Porsche Cayman
Now entering into the world of turbocharging with the 718 Cayman, an older car, with it's naturally aspirated flat-six, can deliver an unbelievable driver's car for the money.
Sadly, a Cayman GTS is likely out of reach for under £50k, but an older Cayman R is entirely possible. If it's something less hardcore that you're after, then a Cayman S is a sublime package.
For around £50,000 you've got the pick of the range and running costs should be fairly reasonable. Again, like the F-type, practicality will be limited compared to an M2, but the Cayman is actually more roomy than you'd think, particularly given it has both a front and rear boot.
>Read our Porsche Cayman review
In the Cayman, you've got a 2.7-litre direct-injection flat-six with 275bhp, whereas the Cayman S has 325bhp from a 3.4-litre flat-six engine. Both love to rev and both have perhaps the most character and excitement in this entire list.
Options include either a PDK auto or a six-speed manual. The PDK is excellent, but it's the manual which delivers the most driver involvement.
Buying a used Cayman, particularly down the more affordable end of the sub-50k spectrum, does mean you're opening yourself up to potential reliability issues. Earlier pre-2008 cars can be subject to IMS bearing failures as well as bore scoring, both of which can mean game over for the engine. Opt for a later version of the Cayman and you should have a lot less to worry about, particularly if it's still under warranty.
>Search for a Porsche Cayman on Classic and Performance car
Let's start with the base Cayman and Cayman S. The good news is that even the 'starter' 2.7-litre direct-injection flat-six develops 275bhp and you can swap that for 325bhp if you go for the 3.4-litre Carman S