First used Bugatti Chiron aims for £1m profit
With a value of £3.6m a Bugatti Chiron has hit the classifieds for the first time in the UK.
Romans International is selling a Bugatti Chiron on behalf of its owner, whose set to net a seven-figure profit if the car sells for its £3.6m asking price. Having covered just 1330 miles in his £2.5m hypercar, the owner has decided to list his Chiron, the first to hit the second-hand market in the UK.
> Click here for our Bugatti Chiron review
The idea of parting with your Chiron to make a quick buck may be alien to many enthusiasts, but not so to all when such significant financial gain is possible. The invisible hand of demand and supply has pushed Chiron values well beyond the retail price, with only 500 units expected to be built in the next 10 years. This owner is looking to ride the appreciation curve for a huge return near £1m.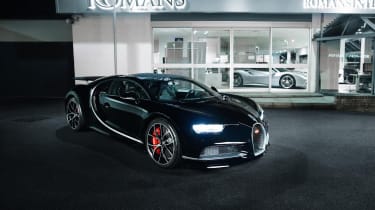 It's little wonder the Chiron has accrued such a significant premium. Tom Jaconelli, Director of Romans International, said: "Although the Chiron is not yet sold out, if you place an order today you will be waiting at least three or four years before the car could be built and delivered, so we are offering the chance to 'jump the queue' but of course there is a hefty premium to pay for this privilege.
The quoted extras on this example equate to £73,000, the price of an option-laden BMW M4 Competition Package, comprising the leather and carbonfibre interior and carbonfibre sport seats.  The first owner also opted for the factory applied full paint protection film to preserve the pristine Nocturne Black finish. Despite the prospect of an ownership change the car will retain the manufacturer issue warranty, valid through until 2021.
> Click here to see the advertisement