To understand the Veyron you had to experience it, because at its launch in 2005 it was a car that defied description. Gnarled supercar veterans struggled to get any kind of handle on its capabilities, leaving to the imagination the sense of shock and awe accelerating to 100mph in 5.8sec or travelling at 250mph might engender.
Simple multiplication seemed to work best for anyone who'd experienced the heavy-fisted accelerative thump of Mercedes' supercharged, 500bhp SL55 AMG. The Veyron weighed about the same but was twice as powerful. It had almost twice the torque, too. And it felt roughly twice as fast. Or twice as fast as the fastest car you'd ever need. A Veyron could crush an Enzo, or any other of its supercar rivals, without trying.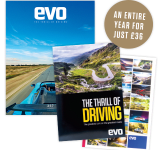 Subscribe to evo magazine
evo is 21 and to celebrate, we're returning to 1998 prices! Subscribe now to SAVE 39% on the shop price and get evo for its original cover price of £3.00 an issue, plus get a FREE gift worth £25!
And if all that sounds wonderfully absurd, you're in the right ballpark. The Veyron has as many turbos as it has driven wheels (four apiece), two clutches, a seven-speed gearbox and very conservative 1000bhp. It got to 60mph in the time it took its driver to gulp.
>Find a used Bugatti Veyron for sale on the Classic and Performance Car site<
Perhaps the most extraordinary thing about the Veyron was that it made its performance as accessible and useable as an Audi R8's (even if the top speed did require a special key, different set of tyres and access to Europe's fastest proving ground). That's what swallowed all that development money and took the time.
Given that the McLaren F1's record top speed had stood for a decade, it was hard to envisage a rush to topple the Veyron. But instead of being a great big full stop, the Bugatti soon became a convenient benchmark for any manufacturer that thought it was hard enough to measure itself against. The 1000bhp+ club soon included the Koenigsegg Agera, 9ff GT9-R, Hennessey Venom, and SSC Ultimate Aero TT, which in 2007 claimed the top speed record for America. Bugatti's reply would need to be emphatic…
Specifications
Years made 2005-2010Engine W16, 7993cc, quad-turboMax power 1000bhp @ 6000rpmTorque 922lb ft @ 2200rpm0-60mph 2.8secMax speed 253mphPrice c£925,000 new,c£1million used