It was perhaps predictable that Bugatti wouldn't allow the upstarts across the pond at SSC to hang onto the 'world's fastest road car' title for long, but none of us expected the 'super Veyron' to quite so comprehensively eclipse everything that had gone before.
At the famous VW test track of Ehra-Lessien, the Veyron Super Sport posted a two-way average of 268mph (it went 271mph in the quicker direction). It also posted a 0-186mph (300kph) time of 
just 14 seconds (to put that in perspective, a Porsche GT2 RS takes exactly twice as long).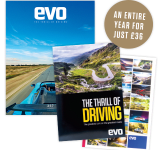 Subscribe to evo magazine
evo is 21 and to celebrate, we're returning to 1998 prices! Subscribe now to SAVE 39% on the shop price and get evo for its original cover price of £3.00 an issue, plus get a FREE gift worth £25!
Quite simply, there has never been a road car like it, and given that Ferrari, McLaren et al seem to have given up chasing top speeds in favour of downforce and track times, it must be doubtful that any genuine production car will ever top it.
No question, the heart of the Super Sport is its phenomenal, 8-litre, quad-turbo W16 engine. Changes compared with the 'regular' Veyron engine included new, larger turbochargers, freer-flowing inlet manifolds, remapped ECU and bigger charge-coolers. The results were just startling.
When Chris Harris drove it for evo, he described it thus. 'There's quite a lot of turbo lag in the Super Sort: you push 
the throttle pedal down and it takes a second for the turbos to spool up. This is never a problem, because even while they're doing it, the car still feels as fast as a 911 Turbo…
'Tellingly, when there are two people in an SS they talk liberally because the thing is so damn refined, but when the taps open, there is silence. You can't talk because your brain is trying to work out if you were propelled at the horizon, or if the horizon was just dragged onto your face. It's uncanny, ludicrous and, I think, completely addictive.'
Specifications
Years made 2010-2012Engine W16, 7993cc, quad-turboMax power 1183bhp @ 6400rpmTorque 1106lb ft @ 3000rpm0-60 2.5secMax speed 268mph (258mph for customer cars)Price c£2,000,000 new