Cash is king, or so it once was said. But when it comes to cars, that's no longer the case, as buying on some form of finance is now by far the preferred option in the majority of new car sales. That also holds true to a certain extent in the classic car market, where the availability of 'cheap' money has encouraged even those who could afford to buy outright to spend their money in other ways.
'There's been a taboo about finance in the past, but not any more,' says David Moss at Oracle Finance. 'Our clients tend to be passionate about cars, but they may also need their own capital for other uses, such as growing their business. Unlike other forms of finance, car finance is an easy way of getting capital. There shouldn't be any pitfalls if everyone involved is doing their job properly.'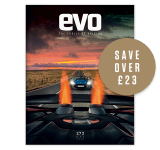 Subscribe to evo magazine
Subscribe today to have every issue of evo delivered straight to you. You'll SAVE 39% on the shop price, and get evo for its original cover price for a whole year!
If you want cash to stay in your wallet there are actually two options: finance and leasing. For finance, that means either a balloon-payment loan, where part of the amount to be paid back is moved to the end of the term as a lump sum, or simple hire purchase. The former has become the most popular method of purchasing a car. Under the Consumer Credit Act (CCA), this means a fixed interest rate and a guaranteed future value – so you know you'll be able to pay the final balloon amount by simply selling the car back (and quite possibly starting a new plan on your next car at the same time). This is known as a personal contract plan (PCP). All manufacturers have their own marketing name for it, and you can also get a PCP loan from any finance house.
'The two big things any finance company should be looking for are affordability [for the consumer] and whether it's an appropriate product that won't cause the consumer stress,' says Moss. 'We need to understand your current credit covenant – how established are you in your job etc. Bank statements are a favourite; they tell a fuller story. Then it's about your change cycle – a six-month cycle requires a very different plan to a five-year cycle – and how you'll use the car, mileage, etc. Everything we do is bespoke.'
Steve Rowe of the Pendragon PLC dealer group adds: 'PCPs are fl exible – you can make overpayments and get out at any point.' That's good news for the customer, but he also highlights where PCPs can go bad: 'If you get the PCP wrong at the start with the mileage it can be tricky at the end. PCPs are really for a maximum of 25,000 miles a year.'
Hire purchase is the other finance option, whereby you simply pay a deposit and borrow the outstanding money to pay for the car outright in monthly payments over a set period. With HP, it's all about the rate and the term. For more expensive purchases there is also variable-rate balloon finance. This is known as an unregulated loan because only fixed- rate loans meet CCA requirements.
> Click here to see our favourite sports cars of 2017
With all variable-rate finance agreements, remember that the lender sets the terms so it's important to read the small print. Also, if a sum of money is deferred to the end of the term, there is no guaranteed value for the car, but as Rowe says, 'The majority of high-net-worth customers buying Ferraris or Astons on this kind of finance don't keep the cars until the end of the term anyway. Their income is more fluid, but the onus is on the consumer with this one to understand what they're doing.'
Finally, there is leasing, where you simply hire the car for a fixed term rather than making payments towards owning it. Once thought of as purely a business-fleet option, it has become increasingly popular in the private sector. As with PCP deals, prices have become tempting as margins, bonuses and volumes all become blurred to reduce the cost of a car. Stuart Wyatt at Wessex Fleet says: 'It all depends on what a fleet- finance company has in its portfolio at any time. One might do a car for £100 a month, another could be anywhere up to £400 for the same car.'
Expert View
Rob Johnson - Classics & Sports Finance
'In the market sector we work in, depreciation curves have generally flattened out and in some cases values are climbing. So more and more people see the appeal of financing a car and for many of our customers the cost of borrowing money, which is currently very low as we all know, is covered by the potential upside on the value of the car. This is even more appealing for those buyers who believe their cars will appreciate by considerably more than the cost of borrowing.
'Typically our customers have the cash to pay for their cars but they choose not to – and recent statistics published in the 2015 World Wealth Report showed that nearly 20 per cent of all HNWI [High Net Worth Individual] assets are financed and that higher wealth bands and those under 40 borrow even more. So, in essence, people are not borrowing because they can't afford the cost of the car – they think finance is a better way to pay for a car like this than cash.'
> Click here to see our favourite evo used cars for under £5,000
Steve Rowe - Pendragon PLC
'There has been a generational shift in finance. These days people all want the latest thing, and they're used to not having to save for it. Look at Spotify for music, or Netflix for TV – everything is now a monthly payment.
'The car market is no longer about list prices, it's about commodities. Finance purchases make for affordable motoring, and for us that means the chance for retention of the customer at the point of changing car. It gives us reasons to speak to them down the line. 
It's more of a consultative discussion in the dealerships these days. Qualifying the customer early is very important, and then taking them through the process, finding out how they've looked after their current car, their annual mileage and so on, and how long they want to keep the new car for. 'If we get it right it's a great way of getting the customer into the latest car they want.'
Opinion
'I bought finance' - Derek Street
'I've looked after the user-chooser car scheme at work and have leased cars for myself for 16 years – always hot hatches. I've just gone for a Peugeot 208 GTi from Wessex Fleet, which is cheaper each month than a PCP deal. I'm also not interested in the option to buy at the end of the term – changing cars every two years is part of the fun.'
The specialist - Stuart Wyatt 
'In theory, leasing can work for anyone, not just businesses. If you like changing cars every two to four years, prefer driving new cars, don't have the cash to buy outright and don't want concerns over final payment agreements or selling the car at the end, leasing is for you.'
Summary
The car market used to be easy to understand. There was the list price, and then the price you paid, based on how good you were at haggling. These days all sorts of factors affect the monthly payments that slip from your bank account. However, buying cars has never been so affordable, and there's a bewildering array of options.
As long as you don't fool yourself on how you'll use the car, it's hard to get into trouble with a PCP. Finance providers, whether manufacturers or finance houses, like it because they have a better opportunity for repeat business. For those of greater means, and with the financial wherewithal to play the game, variable-rate balloon deals have put supercars and classics within reach like never before. And if all that still sounds like too much effort, you could always lease.