It may have been a Mercedes-Benz for Janis Joplin, and Porsches for all her friends, but if there's one car that is lusted after more than any other, it's a Ferrari. But buying a Ferrari for peanuts, just so you can say you own a Ferrari, is no longer possible. Or rather it is, but you shouldn't. Today you'll need at least £50,000 to get into one you can enjoy, but the choice at this price is tantalisingly appealing. If it's a V8 you're after, you've got the 308 GT4 or Mondial, or the more modern 348. And within reach is a proper 2+2 V12 grand tourer, too – the 456 GT.
So, you've read the road tests, reviews and buying guides. You know which model you want – or you simply know that you want any one of them, as long as it's a Ferrari – but where do you go?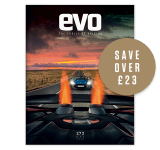 Subscribe to evo magazine
Subscribe today to have every issue of evo delivered straight to you. You'll SAVE 39% on the shop price, and get evo for its original cover price for a whole year!
> Best supercars 2019 - our top picks for the ultimate driving thrill
Discounting private sales, and because these models rarely come up at main dealers, you've got three options: a Ferrari specialist, a supercar specialist, or, as all of these cars are around 20 or more years old, a classic car specialist. To see the sort of environments this means, we're visiting Mark Palmer at Worcestershire's The Supercar Rooms, which sells, yes, you guessed it, supercars; Mike Wheeler at Surrey-based Ferrari specialist Rardley Motors; and Mass Abdelhafid at Bell Classics in Hertfordshire.
But what's it like to stride into a showroom packed with pricier Ferraris, more exotic cars or more sought-after classics and make a beeline for the cheapest car on display? Will you struggle to get attention? Palmer, from The Supercar Rooms, tells me why everyone is treated the same: 'A customer unknown to us turned up in an old Peugeot once. He told us he wanted to buy an F50 and a 512M. We located the cars and invited him back to make arrangements to view the cars. He then turned up in an F40.'
Wheeler, of Rardley Motors, explains that because a £50,000 Ferrari is still a Ferrari, they remain desirable to people with big collections or vast wealth. 'We have a customer who bought a 456 from us not long ago. He's got plenty of other cars, including an F430 and a 308, but he wanted a proper GT car to take down to Europe. The 456 is perfect for that.'
Visit the right specialist, then, and you'll be treated with respect. A good specialist should offer a healthy dose of realism, too. Wheeler, for example, is very honest about the cars that come out of Maranello: 'A Ferrari's best assets are always its engine and chassis, and that's really what you should focus on when buying one. Any 20, 30 or 40-year-old car is always going to have its quirks and a few minor issues, a Ferrari is no different, but you shouldn't let that put you off.'
Different dealers see different buyers, though. Palmer, at The Supercar Rooms, finds Ferrari buyers are more understanding that the car they're purchasing is old and Italian, and things may not be perfect. Porsche buyers, on the other hand, are fastidious about everything being as new. At the classic end of the market, Abdelhafid finds the opposite – here Ferrari buyers seek perfection.
So, what do you need to look for? Those we spoke to stressed how important belt changes are and how significant a thorough history is. Although each specialist consulted is very experienced with these sorts of cars, and can spot what's correct and original and what isn't, if the evidence isn't there it's still difficult for a buyer to feel confident in the car. But it's not just about a paper trail. 'Every Ferrari has a story,' says Abdelhafid, 'classics especially, as they may have travelled the world, been owned by celebrities or eccentric billionaires, and require a journey to fully understand their past.'
The 348 and 456 are some of the last old-school Ferraris – like all the cars that sit close to a £50,000 budget, they come from an era before technology was so integral to Maranello's cars. The V12 in the 456 is a big, unstressed engine, and without any complicated secondary air injectors it's proving to be very reliable. A prevalent issue with 456s is the side windows and door seals – over time the window regulator falls out of adjustment and this creates a gap at the trailing edge of the glass. Readjusting the mechanism and fitting new door seals can improve or completely solve the problem.
The less than complimentary view that many people have of the 348 is mostly because of its lack of technology, as Palmer explains: 'The 348 suffered from a reputation for poor handling. That was then cemented by the release of the F355, which was a huge leap forward.' The 355 was not only faster and better to drive than the 348, it was also easier to drive. But there is less to go wrong with a 348, so it's easier and cheaper to maintain. A good alignment, and the addition of some rear spacers, will significantly improve the way a 348 handles. But really, are you going to be exploring its limits all that often?
With the strictly mechanical 348, like the older 308 GT4 and Mondial, it's the bodywork you need to inspect. Cracks can form at the front and rear edges of the flying buttresses, and if not dealt with can stretch across the entire base of the panel. Corrosion is important to look out for as it's expensive to fix, but it isn't that common because these cars were rarely used in adverse conditions, even when they were new.
Wheeler understands how to keep these cars on the road: 'Realistically, on Ferraris of this age, you will need to spend around £2500 to £3000 a year to keep them running and keep on top of any issues before they escalate.' Not ruinously expensive if you buy a good one, then.
You can't guarantee you'll find a completely reliable, trouble-free car, but it's comforting if it comes from people who know how to look after them appropriately. A specialist with a busy workshop is a good sign. Not just a room with a toolbox and a ramp where a technician 'services' cars, but fully equipped spaces with a handful of cars having a variety of work carried out. Such as rebuilding a W12 from a Bentley Continental GT, or converting a Ferrari F355 Challenge into a road car, or completing a bare-metal restoration of an Aston Martin DB5.
Such intensive and thorough work is incredibly reassuring. There may be more complex Ferraris in existence, but a £50,000 one is still a complicated machine, and it's reassuring to know the inspection and preparation work has been done by an organisation not worried about tearing down an exotic engine or tackling a detailed restoration.
You can't expect a £50,000 456, 308 GT4 or 348 to have undergone a nut and bolt restoration, admittedly, but it's comforting to know you get all the same benefits – the same background, the same skilled craftsmen having prepared the car in the same well-equipped workshops, and the same assurance – upon buying one as someone shelling out for a £140,000 Porsche 964 Turbo, a £300,000 512BB, or even a £3million DB5.