TVR Tamora buying guide
The oft-overlooked TVR Tamora is one of the best-driving TVRs and good value too. Here's what you need to know when buying a used example.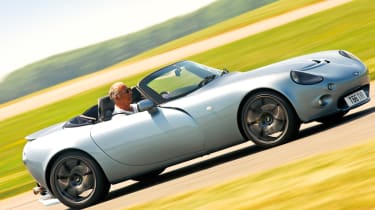 The Griffith and Chimaera were always going to be tough acts to follow. Not only were they the cars that finally allowed TVR to shrug off its kit-car roots and stand toe-to-toe with the likes of Porsche, they also married thunderous performance to timelessly handsome lines. But they couldn't go on forever.
The early 2000s was a time of change for TVR; out with the old guard – Griff, Chimaera, Rover V8s – and in with the new: Tuscan, Tamora and TVR's own range of straight-sixes and V8s. Peter Wheeler described the Tamora as a 'more practical TVR for urban driving'. There's no doubt the new entry-level TVR was designed to appeal to the widest possible market. That meant tempting Porsche fans out of their Boxsters.
Based on the then-recently released Tuscan Speed Six, the Tamora had the same wheelbase, steel-backbone chassis and all-wishbone suspension, but with a short-stroke 3.6-litre version of the Tuscan's 4-litre straight-six, and sharply abbreviated glassfibre bodywork. With 350bhp to propel just 1050kg it was exhilaratingly rapid – and there was no ABS or traction control to get you out of any trouble, though it did have power steering. It also had a more manageable clutch than other TVRs, while its long throttle travel and more progressive power delivery than the V8s helped you avoid snap oversteer. Smaller (16in) alloys with deeper-profile (225/50) tyres gave a more absorbent ride than the Tuscan.
As evo reported in 2001 (see 'What we said'), the Tamora was, at the time, the best-sorted TVR we'd experienced. Yet in a production run that lasted until 2006, it never sold in big numbers (the total produced was only around 350). The slightly awkward looks were partly to blame, as were high running costs and the engine's reputation for poor reliability. But as we'll see, the reliability issues have since largely been addressed, making the Tamora a very useable and highly enjoyable TVR. Its time may yet come.
'I bought one'
Pete Ather - 'About ten years ago, just after I turned 30, I bought my first TVR, a Chimaera 400. I've since owned a Cerbera 4.2 and a Griffith 500, but I began hankering after a Tamora a couple of years ago.
'Ideally I wanted one with a rebuilt engine. An 02-plate car in Scotland caught my eye – it had a full service history, 15,000 miles on the clock, and was advertised for £17,000. Those facts outweighed it still being on its original engine, and the car was delivered to me just after Christmas 2011. As the weather improved I instantly fell in love with it. The chassis and brakes are a big improvement on other TVRs', and the character of the Speed Six is so different from the V8s. All these elements combine to make a hell of a drivers' car.
'But during a routine service, a lot of swarf and metal filings were found in the oil, and an engine inspection showed a full rebuild was required. I've covered nearly 3000 miles now. The car owes me a lot, but over the winter I had the suspension renewed and upgraded, by choice, to reflect the fact that I fully intend to keep it. I get 15-20mpg and insurance is around £400 per annum. The Tamora is the most underrated and – of the convertibles – best-handling TVR of all.'