Your first oversteer car
If you want to explore the delights of rear-wheel drive, then an MX-5, a 350Z or an E46 M3 is the perfect tool – and all can currently be had at bargain prices.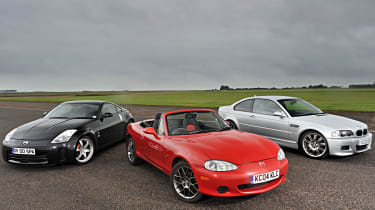 What a wonderfully trusting bunch evo readers are. Terry Bower and Trevor Neilson, respectively the owners of the Nissan 350Z and BMW M3 E46 you see here, only met Henry Catchpole a few minutes ago. Now they're standing on the infield of Bedford Autodrome's West Circuit, about to watch our features editor fling their pride and joys through the tight and tricky left-hander, Bank. If all goes to plan, in the next few minutes their cars will be well and truly sideways and passing with balletic grace just feet from the lens of staff photographer Dean Smith. Fingers crossed then…
Why sideways? Because, if we're really honest, it looks cool. And because while everyone knows it's not the fastest way around a track, it is the most fun, while also demanding no small amount of skill on the part of the driver. So we're here to explore the art of sideways driving with three cars that ought to provide ideal entry-points to the world of oversteer and opposite lock: Terry's 350Z, Trevor's M3… and my Mazda MX-5.
The Mazda with the lightly dimpled flanks and the distressed alloys is my recently acquired MX-5 1.8i Euphonic. One of the myriad special editions, 2004's Euphonic had an uprated stereo (hence the naff name), heated and leather-trimmed seats, unique 16in Enkei wheels and a choice of four special paintjobs (this one's Velocity Red Mica). It's basically a tarted-up 1.8iS, so it's got 146bhp and the S's limited-slip diff– and the best bit is that it cost me little more than two grand.
Find Mazda MX-5s for sale here
While that's cheap for a Euphonic, it's absolutely bang on for a regular, well-cared-for and mechanically fit 1.8iS, and there can be few better entry-level rear-wheel-drivers. Or so popular wisdom has it. In the couple of months that I've had this car, the number of times I've had it gloriously sideways has been precisely zero. A lot of that is undoubtedly due to my lack of bottle and a corresponding deficit in the talent ledger, but I've also begun to doubt that a mere MX-5 has enough sheer grunt to get properly out of shape – particularly on chunky 205/45 Goodyear Eagle F1s. On the odd occasion that a slippery roundabout has presented itself, it has clung impressively, resolutely, deflatingly to its line.
Which is why Henry's here. While I dig the dirt on these cars and tell you what to look out for, he's here to show me what my car can do, to assess all three for sideways ability and to pass on a few tips to all of us budding Stigs. And to make our two generous readers purr with pleasure at the sight of their cars being drifted for the camera. Probably.
The MX-5 is first out on track, Catchpole in the driver's seat grinning at me through his Ranulph Fiennes-spec beard, me feeling ever so slightly anxious alongside. The surface is damp, which will help, but I'm still not convinced the little Mazda has the torque that you imagine is a prerequisite for any oversteer heroics. That all changes at the first corner, Hangar Hairpin – a dab of brakes, second gear, careful turn-in, big revs, BIG slide.
Through each of the following corners you can feel the rear tyres lose and then quickly regain grip as Henry feels his way in. There's another big slide under power at Bank, but then the second half of the lap requires a different technique with its quicker corners, using momentum and weight transfer to get the car drifting, then the steering and throttle to maintain the slide.
It's an impressive display, but then Henry has spent the best part of the last ten years coercing cars into various degrees of oversteer around Bedford. Now it's my turn. Can a relative novice get similarly sideways in a humble MX-5? Oh my goodness yes; Hangar Hairpin, dab of brakes, second gear, turn-in, big revs, BIG slide… spin. Ah.
'The trick,' says Henry, 'is to focus on the front wheels and feel how much grip there is. You have to get the front to bite, otherwise when you apply the power you'll just get understeer. The next thing is to really think about the throttle and apply the right amount. The steering pretty much takes care of itself as long as you're looking where you want to go, and the other thing is to anticipate when the car's starting to straighten and get the lock off again.'
Plenty for me to think about, but right now there's photography to be done. It's slightly weird seeing someone else drive off in your car, but that's nothing compared with watching them turn around and bear down on the tight left in front of you, tuck the nose in, open the throttle and get the rear tyres fizzing and the tail arcing round. The MX-5 rides a little high on its standard springs and rolls markedly, but otherwise it looks like a natural. Henry seems happy too: 'The roll is just part of what it is and you actually use the weight transfer to help set up the slide. The damp track does help but it's a lot of fun and a great car in which to learn about oversteer.'
Now it's Terry Bower's turn to hand over the keys to his 350Z. He's no stranger to track driving himself, coaching drivers at the Nordschleife and Spa with RSR Nürburg, but he's watching keenly as Henry sets off for a quick warm-up lap. Terry's a huge fan of his 309bhp 2007-model Z, which he bought about a year ago, 'because I wanted something more involving than the A4 I'd had. It copes with long trips out to Germany brilliantly, it's very comfortable, and it also handles track work well – all I've done is uprate the brakes with grooved discs.' A similar car will cost around £10,000, but early 276bhp Zs now start below £5K – extremely tempting, despite the low-rent cabin.
Find Nissan 350Zs for sale hereI have many fond memories of the Z I ran as a long-termer on evo back in 2004. One highlight was driving back from Portugal in 24 hours, hitting an indicated 155mph on one deserted stretch of autoroute. I even attended a drift training day with it, and although my efforts were typically ham-fisted, it was clear the car had an extrovert personality and lots of sideways potential. Henry ably demonstrates this as he exits Bank with an armful and a half of opposite lock, big V6 bellowing. Terry chuckles appreciatively.
After half a dozen passes for the camera, Henry gives his verdict: 'You need to be much more aggressive with the power in the Nissan. Whereas the MX-5 tends to stabilise much earlier, the Nissan doesn't stabilise until you've got quite a lot of lock on – which takes a bit more commitment. Once it's there it's brilliant – it just sits there, and you can hold it and hold it. You've got plenty of power and not enough grip and it's great! The only thing is because you've thrown such a lot of lock at it, there's a lot more to take off when it straightens out.'
Banker Trevor Neilson's M3 is an early 2003 version, its 338bhp 3.2-litre straight-six driving through the conventional six-speed manual rather than the SMG gearbox. It's virtually standard and it looks sensational.
The E46 M3 has always been a hero car for the evo team, even for the less hardcore members. The only time I've really felt close to getting to grips with oversteer – and really enjoying it – was in an SMG-equipped M3 that I borrowed from BMW's press office for a day with driving coach Don Palmer. Everything it did seemed so transparent and its on-limit behaviour so progressive.
Trevor has previous with BMWs. His very first car was an E30 318iS, and before the M3 he had an E39 M5, which he adored: 'I love rear-wheel drive, particularly the way the car feels balanced and the steering so uncorrupted. Both the E39 M5 and the E46 M3 just feel right. I might well go back to an M5: with two kids I could really use the extra doors, and the ride isn't quite so firm.'
He's done a rally school and the odd trackday, but he's never taken his own car on a track and he's clearly a little apprehensive as Henry disappears on his sighting lap. But as the M3 slides silkily but spectacularly sideways through Bank, he's soon whooping his approval.
Catchpole himself is in raptures: 'Now that was great fun. That is probably the best car to oversteer; it feels so natural the whole way through. You can slide it a little bit, or slide it a lot, and it feels with you the whole way through. It actually feels like it's got less grip than the 350, and nicer steering too. I'd forgotten just how lovely these are.'
So there you have it. The MX-5 really does deliver proper rear-drive thrills, the 350Z is a character-laden old-school sports car with ample rewards for those prepared to take it by the scruff of the neck, and the E46 M3 is simply one of the all-time greats. Work out which you can afford from our table below, then grab yourself a bit of sideways action. As Henry says, these are 'three great rear-wheel-drive cars – even yours, Peter'.
And that's all the encouragement I need to jump back in the little Mazda for some more laps before the ever-patient Bedford Autodrome staff kick us off. Through the faster corners it's constantly shifting its attitude, pivoting as I come on and off the throttle. At Hangar Hairpin I'm managing to get reasonably sideways without spinning, but Bank is more of a challenge. First time round I spin, and second time round I catch it but don't get the lock off fast enough and the ensuing tank-slapper seems to last half the following straight. But on my third lap I manage a decent little slide and even manage to gather it up reasonably tidily.
That's the thing about all of these cars – there's so much to learn, there's so much to enjoy, and they'll make you a better driver in the process. What more could you want?With thanks to Terry Bower and Trevor Neilson.