Caterham to launch new karting championship
Now competing at the very top level of motor sport, Caterham is launching its own kart championship to scout for future F1 drivers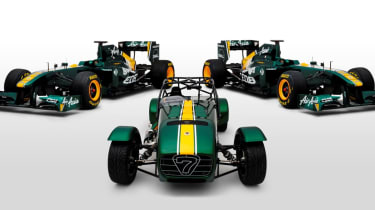 Following Tony Fernandes's decision to purchase Caterham, the British sportscar manufacturer will be competing at the very top level of motor sport, Formula 1. Caterham has announced a new entry-level karting series, with the potential for the most talented drivers to climb up the racing ladder, all the way to a seat in F1.
Starting in 2013, the karting championship will use a Caterham-designed and built kart, and will benefit from the firm's 26-year history of affordable one-make championships. The company insist that the series will allow progression for those looking for a career in motor racing, from grass-roots karting right through the Caterham Seven and (starting from next season) the new SP/300.R championship to the very top GP2 and F1 seats.
Caterham Motorsport Manager, Simon Lambert, said: 'We've built a strong reputation for providing terrific value for money in motor sport through great cars and a playing field so even you could put a spirit level on it.
'Caterham karting will appeal to those looking to make a career in motorsport but, more importantly, our aim is to target the mass-market of parents and youngsters who would like to race in a competitive and yet affordable karting series which, until now, might have been an unachievable dream.'
For more information, visit www.caterham.co.uk.