Citroen has revealed the next stage in its ambitious plan for a parallel, upmarket model range. We saw the DS Inside concept car at last March's Geneva show, a neat three-door hatchback with a blade-like roof (similar to a Mini's) and a unique 'shark fin' centre pillar whose top appeared to stop short of the roof. Big wheels, a stubby tail and an aggressive nose with a trapezoidal grille all hinted at a car which ought to make an entertaining drive. The real thing, to be called DS3, goes on sale in the UK early next year, and we've now seen what the Inside is like on the inside. The basic dashboard design is likely to be shared with the replacement for the mainstream C3 supermini, but the DS3 – DS signifies 'different spirit' as well as hinting at Citroen's most significant past product – gets some expensive-looking trim and details of its own. Cladding a mainstream dashboard in leather is not a new idea. Peugeot, Citroen's companion brand within PSA, has done it for some years. But the DS Inside, to which the production DS3 is 'very close', gets a facia top covered in overlapping leather layers and a main panel in pearl-finished, embossed leather whose wavy grid pattern forms the basis for the DS logo. The instruments are unique, there's much use of dark chrome and leather extends also to the doors and the seats. The front seats look very rich with, again, overlapping panels and a design intended to evoke a luxury watch bracelet. The backrests are pearly white at the top, shading to dark grey at the base. Thick, soft carpet covers the floor. Embossed grid-pattern white leather covers the roof, too, but the production cars won't have that option because it would be too impractical. But, says global marketing director Xavier Duchemin, 'There will be stripes or maybe some stickers such as tattoos available for the roof, and many colour choices.' Including the pink of the Geneva show car's roof? 'You mean the Carmen Red, which is actually a little bit purple? Yes.'
The DS range, which will later include DS4 and DS5 based on the C4 and C5, will all have their own unique bodies and will be pitched as a separate, upmarket, personalised model line. They will be sold from selected regular Citroen dealers in a way appropriate to upmarket expectations, which means no unseemly cashback offers and huge discount deals. As for pricing, the DS3 illustrates the positioning; it will cost more than the replacement C3, obviously, but will undercut the Mini, its main rival. The crucial question for us, though, is – how will it drive? Being based on PSA's PF1 platform, as is the Peugeot 207, the worry is that it will feel like a 207 GT or GTI in different clothes. Not so, says designer Mark Lloyd. 'It looks like it is fun to drive, and it will be. You need have no worries on that score.' Xavier Duchemin expands the point. 'It will still have a Citroen feel, so it won't have very hard suspension. It's more about flow but it will be very responsive.' Like a Saxo VTS or the old ZX Volcane, maybe? 'Yes, like those.' As for engines, the existing range of PSA/BMW units will be employed in their several states of tune. Including the 175bhp turbo version? 'Probably that one, yes,' says Duchemin, 'or perhaps one with a bit more. Wait and see.' Meanwhile, Citroen has set up an online 'configurator' which lets you design and accessorise your own DS3. It's a very neat site; find it at www.dsinside.citroen.com.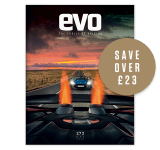 Subscribe to evo magazine
Subscribe today to have every issue of evo delivered straight to you. You'll SAVE 39% on the shop price, and get evo for its original cover price for a whole year!