Peugeot 207 GTI v Renaultsport Clio 197 R27
The search for a small hot hatch hero continues as Peugeot and Renault wade in with new contenders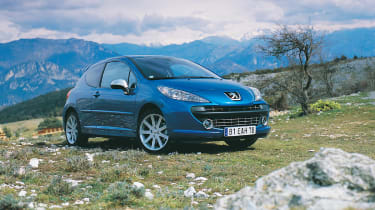 It's one of the things I like about writing for evo – I can tell you that I didn't sleep very well the nights before driving the 207 GTI and Clio R27, knowing you'll understand.
It wasn't because I'd consumed my own weight in Camembert and was having nightmares that I was trapped in a lift with Donkey from Shrek. It wasn't because a tubby businessman three rooms away had a snore like a bull elephant with sinusitis. It was simply because I was excited about driving two new hot hatches.
Small hatches have found themselves on a bit of a sticky wicket of late. The larger Golf- and Mégane-sized cars have enjoyed a fabulous revival, but by contrast the smaller cars have lost their way slightly. And it's largely because they're not small anymore.
The Mini Cooper S is the current best in class, but unlike its predecessor it's not quite inspirational enough to have five stars next to its name. What I'm hoping as I stare at the ceiling in the wee small hours is that one of these two is going to be brilliant, the zenith of the current generation, worthy of five full evo stars…